Beamsplitters feature multi-layer, anti-reflection coating.
Press Release Summary: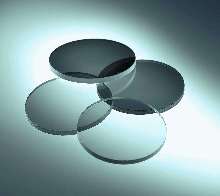 Elliptical-shaped Plate Beamsplitters fit into circular apertures when oriented or mounted at 45°. They have 50% transmission/50% reflection ratio and are offered for visible spectrum and near-infrared in variety of sizes. Surface accuracy of ¼ wave reduces scatter and makes them suitable for imaging applications requiring diffuse axial or in-line illumination sources.
---
Original Press Release:

New Elliptical Plate Beamsplitters Available from Edmund Optics


May 25, 2003, Barrington, NJ - Edmund Optics, Inc. (EO) of Barrington, New Jersey has announced the release of new elliptical-shaped plate beamsplitters. These beamsplitters have been carefully designed to fit into circular apertures when oriented or mounted at 45 degrees, making them perfect for designs where space is crucial. These beamsplitters have a 50% transmission/50% reflection ratio and are available for the visible spectrum (400-700nm) and the near-infrared spectrum (700-1100nm) in a variety of sizes. All versions feature a high efficiency multi-layer anti-reflection coating designed to reduce back-reflections. An improved surface accuracy of ¼ wave reduces scatter and makes them ideal for imaging applications requiring either diffuse axial or in-line illumination sources.

About Edmund Industrial Optics Inc.
Edmund Optics (EO) has been a leading supplier of optics and optical components to industry since 1942, designing and manufacturing a wide array of multi-element lenses, lens coatings, imaging systems, and opto-mechanical equipment. EO is application-focused and pursues new ways to implement optical technology, enabling advancements in semiconductor manufacturing, industrial metrology, and medical instrumentation. Our staff and facilities span the US, Europe, Singapore, Japan, and China. EO's skilled optical engineers design precision products for use in research, test & measurement applications, and for the automation of manufacturing processes. Visit www.edmundoptics.com to learn more.

Contact:
James E. Liolin
Lion Associates
Marketing Communications
914-670-138
jliolin@lionadv.com

Jeff Harvey
Marketing Manager
Edmund Industrial Optics
856-573-6250 x. 6825
jharvey@edmundoptics.com

More from Test & Measurement