Beam Splitters and Combiners suit CO2 lasers up to 100 W.
Press Release Summary: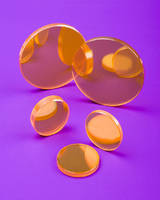 Designed for engraving, marking, and scribing lasers, CO2 Laser Beam Splitters facilitate power measurements and other dual uses by reflecting percentage of beam. Combining 10.6 µm and 0.633 µm wavelengths, Laser Beam Combiners permit alignment and focusing by providing visual light beam. Made from ZnSe with various coatings to achieve polarization states, splitters permit up to 50% transmission, ±3% of reflectance while combiners allow 98.7% light transmission. Both come in ¾–3 in. OD sizes.
---
Original Press Release:

Laser Beam Splitters & Combiners Facilitate Power Measurements & Beam Alignment



A new line of polarizing beam splitters and beam combiners for CO2 lasers from 100W up that are in-stock for immediate delivery to OEMs and end-users are being introduced by Laser Research Optics of Providence, Rhode Island.



Laser Research CO2 Laser Beam Splitters facilitate power measurements and other dual uses by reflecting a percentage of the beam, typically 50% or PIB (polarization insensitive beam) which covers all polarizations.  Beam combiners which combine two different wavelengths, 10.6µm and 0.633µm (HeNe), permit alignment and focusing by providing a visual light beam.



Designed for engraving, marking, and scribing lasers, Laser Research CO2 Laser Beam Splitters and Laser Beam Combiners are made from ZnSe with various coatings to achieve their polarization states.  Beam splitters permit up to 50% transmission, ±3% of reflectance while the beam combiners allow 98.7% light transmission.  Both are offered in 3/4" to 3" O.D. sizes.



Laser Research CO2 Laser Beam Splitters and Beam Combiners are priced according to type, size, and quantity.  They are available from stock.



For more information contact:

Laser Research Optics

A Division of Meller Optics, Inc.

Scott Rouillard, Sales Mgr.

120 Corliss St.

Providence, RI 02904

(888) 239-5545  FAX (401) 331-4004

e-mail: scott@laserresearch.net

www.laserresearch.net

More from Construction Equipment and Supplies