Beam Splitter/Combiner operates at either 1,310 or 1,550 nm.
Press Release Summary: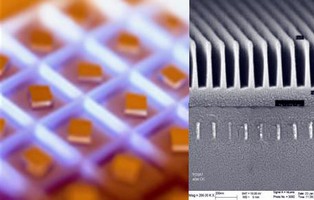 Nanofabricated directly on thin glass substrates using proprietary processes, polarizing beam splitter/combiners offer extinction ratio of transmission channel greater than 30 dB and reflection channel greater than 25 dB. They can be produced on BK7, SBL7, or similar substrates with thicknesses ranging from 0.2-1.6 mm and sizes from 0.5 x 0.5 to 15 x 15 mm. Featuring operating range of -40 to 80°C, units are suited for telecom and scientific equipment such as Raman amplifiers.
---
Original Press Release:

API Nanotronics Introduces High Performance Polarizing Beam Splitter/Combiners from Its NanoOpto Division



SOMERSET, NJ -- September 8, 2008 -- API Nanotronics Corp. (OTC BB: APIO) wishes to announce that its wholly owned NanoOpto division is pleased to introduce a new high performance polarizing beam splitter/combiner (PBS/C). The devices are used to combine light from two input beams into a single output beam (PBC mode) or to separate the orthogonal polarization components of an input signal into two output beams (PBS mode).

These advanced optical devices are optimized for operation at either 1310 nm or 1550 nm with the following specifications:


				Extinction Ratio	    Transmission

Transmission channel (Tx)	 >1000:1 (>30dB)		>95.5% (IL=0.2dB)

Reflection channel (Rx) 	 >320:1  (>25dB)		>93.5% (IL=0.3dB) 

NanoOpto's PBS/C are nanofabricated directly on thin glass substrates using proprietary processes, resulting in a product with a small form factors and great shape and size versatility, in contrast to conventional large crystal PBS/C products. The NanoOpto devices can be produced on BK7, SBL7, or similar substrates with thicknesses ranging from 0.2 mm to 1.6 mm and sizes from 0.5mmX0.5mm to 15mmX15mm. The operating range is -40 to 80°C. Custom specifications and larger sizes are also possible.

NanoOpto's PBS/C have applications in telecom, scientific equipment such as Raman amplifiers, polarization division Mux/DeMux, polarization switches, variable optical at-tenuators, and general fiber networks.

Pricing at 100 piece quantity of a 15mmX15mm square 1310 nm or 1550 nm PBS/C on BK7 substrate is $625. Our PBS/C with Rx of 100:1 are still available.

Technical Contact:
Thomas Tombler, Ph.D.
732-627-0808 x2295
Email: ttombler@nanoopto.com
www.nanoopto.com

More from Software