Beam Profilers use software to report measurements.
Press Release Summary: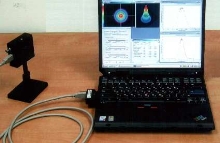 BeamStar FX Beam Profiler Systems include camera, filters, plug-and-play PC card, and version 1.10 software. Users can align Major/Minor axes instead of X and Y for beam shapes not aligned to X and Y. With Point-to-Point Distance Measurement, users can right click mouse and move, then right click again to measure distance between any 2 points. Additional features include M² measurement capabilities, 2D Gaussian Fit, and Region of Interest capabilities.
---
Original Press Release:

New Software Feautures for the BeamstarFX Series Firewire Camera


New Features:
o Report Generation
o Measurement along Major/Minor Axes
o ActiveX
o Point to Point Distance Measurement
o Step-by-Step M² Measurement
o Region of Interest
o Automation Interface, Including Examples in Visual Basic and LabView

Wilmington, MA July, 2005...Ophir Optronics, Inc. announces the release of software version 1.10 for its BeamStar FX Series of Firewire Beam Profilers. The software upgrades include Report Generation that offers a sophisticated, easy to use and flexible way to generate reports on measurements. Users can now choose to align to Major/Minor axes instead of X and Y for beam shapes not aligned to X and Y. The addition of ActiveX to the BeamStar FX software makes it possible to control the camera and capture the most important data from other programs. With Point-to-Point Distance Measurement capabilities the user can right click the mouse and move, then right click again, to measure the distance between any two points.

M² measurement capabilities, 2D Gaussian Fit and Region of Interest capabilities completes the upgrades to the BeamStar FX Software.

The BeamStar FX system comes complete with camera, filters, plug-and-play PC-card, software and detailed instructions. For more information download the specifications from the Ophir web site at www.ophiropt.com.

For further information contact:
Laurie Beausoleil (Ophir Optronics, Inc.) Tel: 800-383-0814
Fax: 978-657-6054
E-mail: sales@ophiropt.com
www.ophiropt.com

More from Construction Equipment and Supplies