BC118 AirPrime® Bluetooth Module Now Offers Maximum Data Rate up to 270 kbps
Press Release Summary: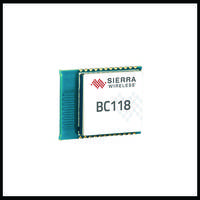 BC118 AirPrime® Bluetooth Low Energy Module comes with an embedded Bluetooth stack with UART interface. Unit features frequency band of 2.4 GHz, transmit power of +7.5 dBm and RF sensitivity of 0.1% BER at -92.5 dBm. The BC118 module is operated on 1.8 V to 3.6 V DC power voltages and is suitable for applications requiring data-only connections or cable replacement applications.
---
Original Press Release:
Richardson RFPD Introduces the BC118 AirPrime® Bluetooth Module from Sierra Wireless: Offers Simple, Reliable Low-Energy Data Transmission
April 3, 2018 – Geneva, Ill.: Richardson RFPD, Inc. announced today the availability and full design support capabilities for a new Bluetooth module from Sierra Wireless.
The BC118 certified Bluetooth Low Energy (BLE) 4.1 module with integrated antenna is ideal for quickly and cost effectively adding simple, reliable low-energy data communication. The BC118 connects prosumer and industrial applications requiring data-only connections for simple sensor-to-phone or cable replacement applications.
The BC118 featured an embedded Bluetooth stack with simple UART interface, full regulatory certifications for faster time-to-market, and industrial-grade robustness for harsh environments and extreme temperatures.
Additional key features of the BC118 include:
Frequency band: 2.4 GHz
Maximum data rate: 270 kbps (typical 60 kbps)
Operating range: up to 30 m
RF sensitivity: 0.1% BER at -92.5 dBm
Transmit power: +7.5 dBm
Power voltage: 1.8 V to 3.6 V DC
To find more information or to purchase this product today online, please visit the BC118 webpage. The device is also available by calling 1-800-737-6937 (within North America); or please find your local sales engineer (worldwide) at Local Sales Support. To learn about additional products from Sierra Wireless, please visit the Sierra Wireless storefront webpage.
About Richardson RFPD
Richardson RFPD, an Arrow Electronics company, is a global leader in the RF, wireless, IoT and power technologies markets. It brings relationships with many of the industry's top radio frequency and power component suppliers. Whether it's designing components or engineering complete solutions, Richardson RFPD's worldwide design centers and technical sales team provide comprehensive support for customers' go-to-market strategy, from prototype to production.
More information is available online at www.richardsonrfpd.com. Follow Richardson RFPD on Twitter atwww.twitter.com/Richardson_RFPD.
To subscribe to Richardson RFPD's New Products e-newsletter, visit www.richardsonrfpd.com/subscribe.
FOR DETAILS CONTACT
Dave Silvius Director, Strategic Marketing
P 630 262 6800