Pressure Sensors / Detectors / Transducers
Baumer Launches PP20R Pressure Sensors with Insulation Strength Up to 1.5 kV AC
Press Release Summary: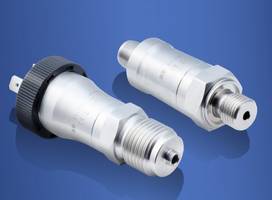 The PP20R Pressure Sensors are designed to measure pressure in the ranges of 0–0.25 bar and 0–160 bar. The units are offered in different sizes with output signal (current 4–20 mA and voltage 0–10 V, 0–5 V and 0–2 V) and electronic and process connections. The sensors are suitable for applications such as braking systems, cooling systems for traction units. They are offered with enhanced EMC immunity that exceeds the EN 50121-3-2 standards.
---
Original Press Release:
Competitive Pressure Sensor PP20R with Railway Certification for Increased Operating Safety
With the new PP20R family of pressure sensors, Baumer is expanding its portfolio to offer an attractively priced solution for demanding applications within the rail industry. The pressure sensor sets itself apart with its high insulation strength and enhanced EMC immunity, while also being the only pressure sensor on the market right now to be labeled in accordance with the GS1 standard.
The PP20R measures relative pressure in pressure ranges from 0–0.25 bar and 0–160 bar. It is available in a variety of models with regard to accuracy, output signal (current 4–20 mA and voltage 0–10 V, 0–5 V and 0–2 V), and electronic and process connections. This makes it a highly flexible solution as well as being extremely robust in combination with its reinforced measuring cell.
It is suitable for use in applications such as pressure measurement in braking systems, cooling systems for traction units, and controlling and regulating the pantograph contact pressure. 
The exceptional insulation strength of the sensor up to 1.5 kV AC minimizes the risk of damage caused by voltage differences in the device, thereby increasing both its own operating safety and that of the entire system.
Its high electromagnetic immunity exceeds the requirements set out in the EN 50121-3-2 standard, meaning it can even be positioned close to electronic interference fields without a problem.

With its four pressure equalization ports in place of the single equalizer found in other products on the market, the PP20R is less vulnerable to environmental dirt, deposits, condensation water, and other liquids. This also makes it ideal for outdoor applications in harsh weather conditions, including on vehicle roofs or even in underfloor areas.
The pressure sensor meets the newly established GS1 standard for the rail industry, which makes it possible to exchange component life cycle data on production, maintenance, repair, and reconditioning processes, and thereby contributes to efficient logistics processes for everyone involved in the rail sector.
Baumer Group
The Baumer Group is one of the worldwide leading manufacturers of sensors, encoders, measuring instruments and components for automated image processing. Baumer combines innovative technologies and customer-oriented service into intelligent solutions for factory and process automation and offers an unrivalled wide technology and product portfolio. With around 2,400 employees and 38 subsidiaries in 19 countries, the family-owned group of companies is always close to the customer. Baumer provides clients in most diverse industries with vital benefits and measurable added value by worldwide consistent high quality standards and outstanding innovative potential. Learn more at www.baumer.com on the internet.
Baumer USA
122 Spring St., Unit C-6
Southington, CT 06489 • USA
Jones Jeremy
Phone: +1 (860) 620 63 75
Fax: +1 (860) 628 62 80
www.baumer.com">jjones@baumer.com www.baumer.com
Related