Sensors / Detectors / Transducers
Baumer Earns Recognition as a John Deere Partner-level Supplier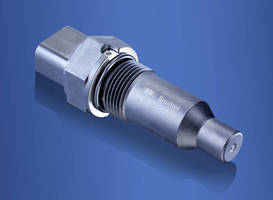 Baumer Group has earned recognition as a Partner-level supplier for 2015 in the John Deere Achieving Excellence Program. The Partner-level status is Deere Company's highest supplier rating.  The Swiss-based company was selected for the honor in recognition of its dedication to providing products and service of outstanding quality as well as its commitment to continuous improvement. Baumer has more than 10 years´ collaboration history with John Deere.  Deere makes use of Baumer's profound sensor, technology and agriculture industry expertise.Company representatives accepted the recognition during formal ceremonies held on Dec 15th 2015 in Bettendorf, Iowa (USA).



Baumer is a supplier of sensor solutions to John Deere's operation in Des Moines, Waterloo, Moline, Dubuque, and Arc-lès-Gray (France). With presence in 19 countries and specialists providing qualified consultation in all agriculture core markets Baumer maintains a close connection to the customer.



Suppliers who participate in the Achieving Excellence program are evaluated annually in several key performance categories, including quality, cost management, delivery, technical support and wavelength, which is a measure of responsiveness. John Deere Supply Management created the program in 1991 to provide a supplier evaluation and feedback process that promotes continuous improvement.



Baumer supplies not only customer specific products but also a range of agriculture industry specific products. Available agriculture product categories include inductive sensors, ultrasonic sensors and a frequency sweep oil level switch. Baumer is a full-portfolio provider of sensor solutions.



Photo: Baumer Oil level Switch – Designed for Reliability



The Baumer Group is an internationally leading manufacturer of sensors, encoders, measuring instruments and automated image-processing components. Baumer combines innovative technology and customer-oriented service with intelligent solutions for factory and process automation and provides a unique range of products and technologies. The family company has around 2,300 employees with manufacturing facilities, sales offices and agents in 37 offices and 19 countries, always close to the customer. With consistently high quality standards worldwide and a huge potential for innovation, Baumer brings their customers critical advantages and measurable added value across many industries. For further information, visit www.baumer.com on the Internet.