Battery Strap Resettable Fuse features ultra low resistance.
Press Release Summary: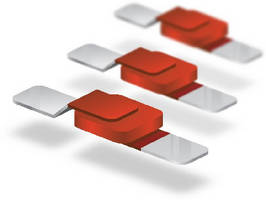 Providing resettable overcurrent protection with initial resistance of 5-15 mW, Bourns® Multifuse® MF-LL Series meets circuit protection requirements of rechargeable battery packs in portable electronic devices such as mobile phones, MP3 players, and digital cameras. Miniature-sized, RoHS-compliant unit is supplied in chip measuring less than 11 mm².
---
Original Press Release:

Bourns Announces Its Lowest Resistance Battery Strap Resettable Fuse



New Miniature-Sized Battery Strap Resettable Fuse Offers an Initial Resistance of Just 5 to15 mOhms

RIVERSIDE, Calif., - Bourns, Inc., a leading manufacturer and supplier of electronic components, today announced the company's smallest battery strap resettable fuse featuring ultra-low resistance designed to deliver reliable and robust circuit protection. Designated the Bourns® Multifuse® MF-LL Series, the new battery strap resettable fuse was developed in response to portable electronics industry demand for a miniature-sized, resettable overcurrent protection with the lowest possible resistance. The new fuse meets the circuit protection requirements of rechargeable battery packs used in portable electronic devices such as mobile phones, MP3 players and digital cameras.

"Using its lowest resistance PTC formulation to date, Bourns has produced a resettable fuse from a chip of less than 11 mm2. Resettable fuses of such small size generally have quite high resistance values, but Bourns' new MF-LL Series overcomes this limitation and offers an initial resistance of just 5 to 15 mOhms," said Brian Ahearne, Multifuse® product line manager at Bourns, Inc. "As the electronics industry continues to evolve at a rapid pace, the launch of the new MF-LL Series demonstrates Bourns' ongoing commitment to next-generation resettable fuse development."

The Bourns® MF-LL1190 Model is available now. Future models in the series are in development and are scheduled for release in the second quarter of 2011. The MF-LL Series is also RoHS* compliant. As a pricing example, Bourns® MF-LL190 is priced at $0.25 each in 10K piece quantities.

About Bourns

Bourns, Inc. is a leading manufacturer and supplier of automotive sensors, circuit protection solutions, magnetic products, microelectronic modules, trimming and precision potentiometers, panel controls and encoders and resistive products. Headquartered in Riverside, CA, Bourns serves a broad range of markets, including telecommunications, computer, industrial, instrumentation, automotive, consumer, non-critical life support medical, audio and various other market segments. Bourns® products are manufactured according to ISO-9000 standards under Six Sigma quality programs. Bourns® automotive products are manufactured in accordance with the TS16949 standard. Additional company and product information is available at the company's website at www.bourns.com.

Bourns® and the Bourns logo are registered trademarks of Bourns, Inc. and may be used only with the permission of Bourns and proper acknowledgement. Other listed names and brands are trademarks or registered trademarks of their respective owners.

*RoHS Directive 2002/95/EC January 27, 2003 including Annex.

More from HVAC