Battery-Powered Strapping Tools ensure operator comfort.
Press Release Summary: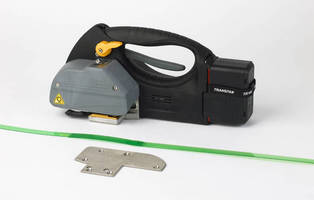 Powered by Li-Ion battery, models VT550L and VT700L mobile, portable strapping tools are not tied to an air line or external power. Model VT550L features polypropylene and polyester strapping and is designed for light duty applications. With maximum tension of 700 lb, VT700L works with variety of polyester strap widths and thicknesses making it suitable for heavy duty and high-tension applications. Accommodating hard-to-reach places, battery-operated tools have charge time of 60 minutes.
---
Original Press Release:

PAC Strapping Now Offers Mobile and Portable Strapping Tools



There are times when you cannot afford to have a power cord hold you back when it comes to strapping. It would be great if every strapping job happened right next to your Auto PAC 300, but sometimes you have to go places that are hard to reach, and that's when one of our battery-powered strapping tools really comes in handy. PAC Strapping is now offering the VT550L and the VT700L, two mobile and portable Lithium Ion-powered strapping tools that are not tied to an air line or external power. Unlike manual tools, the tension applied is not operator dependent and your seal joints will exceed those of a manual system. Using the VT550L or the VT700L, you get a more secure package with less chance of repetitive motion injuries. That last part is a giant time and money saver all by itself!



The VT550 is perfect for regular and light duty applications and it uses both polypropylene and polyester strapping. The VT700 is slightly bigger, which makes it perfect for heavy duty and high-tension applications. It has 700 pounds maximum tension (it's in the name!) and works with a wide variety of polyester strap widths and thicknesses. Each of these amazing tools has a charge time of 60 minutes and is only available through PAC.



The VT550 and the VT700 are two more examples of how PAC Strapping has stayed at the top of the plastic strapping industry for over 30 years.



For more information, please visit our website www.strapsolutions.com or call 1-800-523-7752