Battery Powered Light Tower recharges from multiple sources.
Press Release Summary: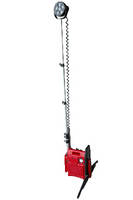 Extendable to 8 ft in height and equipped with 60 W LED light head, Model LED10W-6RT-LT produces 4,800 lumens and is capable of illuminating 270 x 240 ft area. IP68-rated light head is waterproof, adjustable, and also available in spotlight configuration. Powered by 33 A AGM SLA battery with 500+ charging cycle rating, tower provides 6.5 hr illumination on single charge. Charging options include connection to common 115 Vac wall outlets or 12 Vdc through 12 V adapter with cigarette plug socket.
---
Original Press Release:

Magnalight Announces Release of 4800 Lumen Rechargeable Battery Powered Light Tower



Larson Electronics' Magnalight.com announced today the release of a battery powered light tower that provides extreme output and portability in a compact tower design. Extendable to 8 feet in height and equipped with a powerful 60 watt LED light head, this portable light tower can be recharged from multiple power sources and will provide over 6 hours of illumination on a single charge. The compact design of this portable tower allows operators to simply collapse and fold up the unit into a suitcase sized package that can be easily stowed and transported in vehicles and trucks, making it ideal for utilities workers and emergency services use.

The LED10W-6RT-LT rechargeable portable light tower from Magnalight.com has a single 60 watt LED light head that produces an impressive 4800 lumens of light and is capable of illuminating an area 270 feet long and 240 feet wide. The LED light head used with this tower is IP 68 rated waterproof, extremely durable, adjustable, and also available in spotlight configurations that are capable of producing a spotlight beam almost 600 feet long. Power for this portable LED light tower is provided by a 33 amp hour AGM sealed lead acid battery with a 500+ charging cycle rating for long life and reliability. This portable tower offers versatile charging options including connection to common 115VAC wall outlets or 12VDC through an included 12 volt adapter with cigarette plug socket to allow recharging on site from vehicles and equipment. Optional connectors also allow operators to use these units as portable power sources to power external lights or devices that require 12 volt DC current. This tower can be extended up to eight feet in height, making it well suited to use as a portable scene light for utilities and emergency services workers. This portable tower also meets nighttime traffic control and highway maintenance requirements for use in construction as well as a flagger light. This entire portable LED lighting portable LED lighting package weighs only 36 lbs and collapses and compacts into a package measuring only 24" high by 13.5" wide by 6.5" deep, making it as easy to carry and transport as a typical piece of luggage. All the components stow within a protective heavy duty case equipped with an external battery charge indicator that provides fast verification of battery charge status without the need to open up the unit. The heavy duty aluminum mast extends to eight total feet in height and can be adjusted to any desired height and locked into position, and a set of foldable polyethylene legs can be deployed to provide additional tower stability in windy conditions. This tower will provide 6.5 hours illumination on a single charge and provides enough illumination to brightly illuminate moderately sized areas with bright white light of high quality and intensity. This tower is highly versatile and an ideal lighting solution for construction and industrial workers who need dependable illumination that can be easily transported and quickly deployed with a minimum of time and effort.

"The LED10W-6RT-LT is a portable, battery operated, high powered LED light that is ideal for first responders, repair operations and other situations where operators need to light up 5,000 square feet of work area," said Rob Bresnahan with Larson Electronics' Magnalight.com. "This self-contained and compact tower has an AGM sealed lead acid battery that runs up to 6.5 hours on a full charge and meets the requirements for nighttime traffic control for highway maintenance and construction for flaggers."

Larson Electronics' Magnalight produces a wide range of LED work light, work area lights, Led light towers, LED floodlights and LED equipment lights. The entire line of Magnalight lighting products can be viewed by visiting Magnalight .com or you can call 1-800-369-6671 to learn more about custom ordering options. For international inquires call 1-214-616-6180 for more details.