Battery Powered Light Tower extends 3-8 ft in height.
Press Release Summary: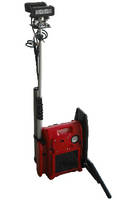 Producing 1,368 total lumens for up to 16 hr on single charge, Model WAL-LEDLT-FL2X9W is powered by 33 A SLA battery, which can be charged via built-in charger and 115 Vac cord or 12 Vdc adapter that plugs into cigarette plug socket. Portable unit has 3 waterproof and dustproof 9 W LED light heads mounted atop collapsible aluminum mast. Each light head illuminates area approximately 70 ft long x 65 ft wide in standard flood configuration with light that is 6,000 K in color.
---
Original Press Release:

Magnalight Announces Release of Rechargeable Battery Powered Light Tower



Larson Electronics' Magnalight.com has announced the release of a battery powered light tower that can be extended from 3 feet to 8 feet in height and produces 1,368 total lumens of light for up to 16 hours on a single charge. This portable, lightweight, battery powered telescoping LED light has a 33 amp hour sealed lead acid battery which can be charged via a built in charger and 115VAC charger cord, or a 12 volt DC adapter that plugs into an integrated cigarette plug socket for charging from vehicles or heavy equipment. The entire unit is fully portable and weights only 37 lbs, making it ideal for use as a flagger light or in emergency utility work applications.

The WAL-LEDLT-FL2X9W portable light tower from Magnalight.com has two waterproof and dustproof 9 watt LED light heads mounted atop a collapsible aluminum mast that can be elevated from 3 feet to 8 feet in height. The aluminum mast is lightweight and has locking thumbscrews at each section to allow operators to adjust the height of the light heads to any desired level between 3 and 8 feet. A retractable spring cord connects the light heads to the unit and provides a durable and secure connection that is easily stowed when the unit is not extended. A 33 amp hour, AGM sealed lead acid battery provides up to 16 hours of continuous operation and has a 500+ charge cycle or 300+ full discharge cycle rating, providing an estimated 3-5 year battery life expectancy. A built in charger and cord allows operators to recharge this light tower from any common 120 VAC wall outlet, while an included 12 volt adapter cable can be connected to external 12 VDC power sources and plugged into the unit via a cigarette plug socket to allow charging when 120 VAC power is unavailable. This cigarette plug adapter adds versatility by also allowing the unit to be used as a power source for equipment requiring 12 VDC current. The two LED light heads on this unit are positioned to provide light in opposing directions, producing illumination on both sides of the unit when switched on. These 9 watt LED light heads produce 684 lumens of light each and are IP68 rated waterproof and dustproof. Each light head illuminates an area approximately 70 feet long and 65 feet wide in standard flood configuration with light that is 6000K in color, helping this unit achieve NCHRP Report 476, Section 2.5.2, and MUTCD Section 6E compliance for illumination, visibility and temporary lighting. The housing on this unit includes collapsible polyethylene legs to provide a 30 inch support base for windy conditions; a push-to-test volt meter built in to the front panel, an integrated carrying handle, and is designed to form a small and easily transported form factor when the unit is not in use. Magnalight offers a variety of options for this unit including LED fixtures in spotlight configuration and alternate LED light heads, including their LED10W-6R LED lights which produce a 5.5 hour run time and 4,800 lumen light output when installed on this tower.

"We wanted to give operators the ability to have nearly 360 degrees of area lighting all night long in a lightweight, easy to carry format," said Rob Bresnahan with Larson Electronics' magnalight.com. "In addition, these portable LED scene lights are designed to operate off the battery or directly off a standard 120V wall outlet. So operators can conserve battery charge when they access to grid or generator power."

Larson Electronics' Magnalight produces a wide range of LED work lights, work area lights, Led light towers, LED floodlights and LED equipment lights. The entire line of Magnalight lighting products can be viewed by visiting Magnalight .com or you can call 1-800-369-6671 to learn more about custom ordering options. For international inquires call 1-214-616-6180 for more details.

More from Software