Battery-Powered Forklift offers operational flexibility.
Press Release Summary: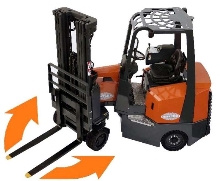 Suited for indoor and outdoor use, 40SE articulated forklift can maneuver in aisle widths down to 6½ ft in palletized storage areas. Unit features solid pneumatic tires, 4,000 lb capacity, and lift height options up to 30 ft. Forklift is suited for food and pharmaceutical sectors as well as other locations previously unsuitable for IC equipment, including furniture factories, tile suppliers, and third party logistics companies.
---
Original Press Release:

Forklift Conquers Storage Space in More Places


(Plant City FL) - Following the success of their LP Gas powered articulated forklift, specialist material handling equipment producer Aisle-Master introduces a battery-powered version that opens up these benefits to more operations.

Since entering the North American market, the Aisle-Master LP Gas powered narrow aisle truck revolutionized a growing number of businesses in an ever-expanding range of applications. These targeted companies originally were large storage or warehousing facilities.

Meanwhile manufacturing companies are increasingly discovering the multiple benefits of the truck. In addition to reducing aisle widths in palletized storage areas to six and a half feet, the Aisle-Master forklift's exceptional manoeuvrability has increased available valuable manufacturing and processing space by up to 50%.

The new Electric model -- 40SE - is expected to further open up the range of applications into the food and pharmaceutical sectors, and other locations previously unsuitable for IC equipment.

With 4,000lbs capacity, the Electric truck can work both inside and outdoors eliminating the need for normal counterbalance forklifts, and reach or narrow aisle trucks. Solid pneumatic tires fitted to the Aisle-Master also make loading possible in the yard.

As industrial real estate becomes increasingly more expensive, companies have to find ways to make their operations more productive and cost effective. Building expansions to accommodate growth can also be disruptive to the operation and can cause logistics headaches.

The Aisle-Master is proving extremely useful in saving space and time. Added to this is the versatility of the truck to work throughout the facility. In some cases the total number of area or application specific trucks has been reduced and staging eliminated as the Aisle-Master can take product directly from the manufacturing or storage area to the truck or trailer. This kind of operation can also cut down on congestion, slower operation and forklift accidents.

With lift height options up to 30ft and the ability to work around the clock, the range of applications is virtually unlimited and now includes DIY wholesalers, furniture factories, tile suppliers, beverage distributors and 3rd party logistics companies.

Aisle-Master also provides free site surveys and layout proposals to optimise space utilisation with typical space savings of up to 50% being achieved. Visibility is also significantly better than other lift trucks and operators can be trained quickly to reduce load cycle times and product damage.

Trucks are available for demonstration through a growing distribution network building in North America. Aisle-Master is the designer and manufacturer of their innovative narrow aisle articulated forklift that gives manufacturers, processors and DC's world-wide solutions for efficiency and better capital investment utilization.

More from Cleaning Products & Equipment