Battery-Operated Crimp Tool is suited for copper tubing.
Press Release Summary: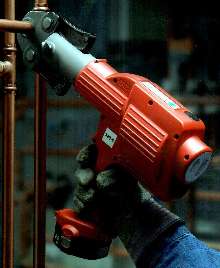 RIDGID® 320-E crimp tool runs on one 14.4 V nickel-metal hydride battery and incorporates tool head that swivels 90° to allow users access to tight positions. Unit uses interchangeable jaws of ProPress® System, which includes nine interchangeable jaws for crimping ½-4 in. fittings as well as more than 240 SKUs of specially designed fittings in ½-4 in. sizes. Diagnostics indicate proper jaw closure, low/high pressures and temperatures, and battery charge.
---
Original Press Release:
Ridge Tool Introduces Battery-Operated Crimp Tool for Copper Tubing
ELYRIA, OH - March 2003 - Ridge Tool Company has introduced a battery-operated crimp tool that extends the company's line of copper crimping products for use with the ProPress® System. The ProPress System is a press connection system that crimps copper tubes in seconds for the plumbing and heating markets. The new battery-operated crimp tool, RIDGID® 320-E, features a lightweight, compact design and runs on a 14.4-volt nickel-metal hydride battery. The crimping tool's head swivels 90 degrees to allow users access to tight positions. Weighing only 10 lbs., the new battery-operated crimping tool uses the interchangeable jaws of the original ProPress System. The system includes nine interchangeable jaws for crimping 1/2" to 4" fittings, and a full line of more than 240 SKUs of specially designed fittings in 1/2" to 4" sizes. The battery-operated tool has built-in advanced diagnostics to indicate such features as proper jaw closure, low and high pressures, low and high temperatures and battery charge, to assure the user that a correct crimp has been made. The diagnostics will also indicate when the equipment needs service. "The RIDGID 320-E battery-operated tool was developed to overcome job site challenges such as power availability, joining tube in tight spots, and tool uptime," said Alissa Calder, product manager, Ridge Tool Company. Designed as a replacement for the traditional sweat method of connecting copper tube, the ProPress System from Ridge Tool Company and Viega has been available since May 2000. The system joins copper tube by crimping the fitting around the tube to form a watertight connection. Using the system, copper joints can be crimped in seconds, creating labor time savings and lower installation costs for contractors. "The ProPress System offers contractors time and cost savings, as well as the safety of flameless joining, all while providing a reliable, watertight connection. We're finding that contractors are consistently achieving a 50 percent labor savings with the ProPress System," noted Calder. Currently the ProPress System is being used by contractors throughout the United States for numerous applications including international airports, government buildings, professional and college sports stadiums, federal military bases, casinos, hotels, schools, colleges, hospitals and healthcare facilities. The ProPress System is a joint venture between Ridge Tool Company and Viega, a privately held, German-owned company with a strong presence in Europe. Ridge Tool Company, a leading manufacturer of hand and power tools, markets its products in more than 130 countries. The Company's broad offering includes threading and drain cleaning machines, and more than 300 types of tools serving the plumbing, HVAC/R, industrial, electrical, petroleum, institutional, commercial and hardware markets. Ridge Tool is a subsidiary of St. Louis, Missouri-based Emerson. For additional information on the new RIDGID 320-E crimp tool, please contact: Ridge Tool Company, 400 Clark Street, Elyria, OH 44036 U.S.A. Or, call toll free: 800/769-7743. www.ridgid.com
More from Electrical Equipment & Systems