Battery Management System uses celular communications.
Press Release Summary: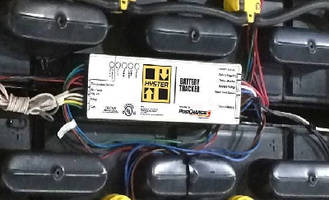 With Powered by PosiCharge™ technology, Hyster Battery Tracker monitors battery health and usage to help ensure proper maintenance and warranty compliance tracking. Low-profile device stays with battery during its lifetime and uses cellular communications to deliver actionable, real-time data on key performance metrics like state-of-charge, water levels, voltage current and temperature. Email notifications alert fleet managers to potential battery issues that may affect equipment performance.
---
Original Press Release:

Hyer Battery Tracker Allows You to Take Charge of Your Batteries



GREENVILLE, N.C.  – When an operation is dependent on materials handling equipment, any downtime or disruption can have a negative ripple effect throughout the operation. Industrial batteries may seem an insignificant part of a larger fleet operation, but premature failure or unaddressed issues can be costly, both in terms of productivity and expensive battery replacements. 



Hyster Battery Tracker with Powered by PosiCharge™ technology is a revolutionary new battery management solution that monitors battery health and usage to help ensure proper maintenance and warranty compliance tracking. Installed in as little as 20 minutes, this low-profile device stays with the battery during its lifetime and like state-of-charge (SOC), water levels, voltage current and temperature. Email notifications quickly alert fleet managers to potential battery issues that may affect equipment performance and uptime.



Data is only as good as the tools available to analyze it. Hyster Battery Tracker comes with a robust, back-office reporting suite that transforms the continuous 24/7 monitoring into easy-to-use reports and dashboards. Detailed daily tracking, weekly exceptions and lifetime statistical analysis reports provide instant visibility to battery health across the entire fleet, helping fleet managers identify potential issues before they become larger problems and simplifying warranty compliance.



Successful businesses need data-driven intelligence to guide decisions that improve efficiency and protect the bottom line. For lift truck fleets, devices like Hyster Battery Tracker can produce a wealth of relevant data insights for quick conversion into actionable business intelligence, allowing fleet managers to make timely, informed decisions. This helps eliminate potential battery-related downtime and improve internal battery maintenance procedures that can maximize battery life and reduce costs.



"An active fleet of lift trucks represents a significant investment and fleet managers are constantly on the lookout for unnoticed or undiagnosed needs that can lead to equipment downtime, performance setbacks and even operational and safety concerns," said Pat DeSutter, Vice President of Fleet Service and Aftermarket for Hyster Company. "With Hyster Battery Tracker, fleet managers can finally get full visibility into their batteries, an integral, but largely unconsidered part of their operation and use that information to have more control over productivity and profitability."



Click here for an image of Hyster Battery Tracker.



About Hyster Company

Hyster Company is a leading world-wide lift truck designer and manufacturer. Hyster Company offers 130 lift truck models configured for gasoline, LPG, diesel and electric power, with one of the widest capacity ranges in the industry — from 2,000 to 105,000 lbs. Supported by one of the industry's largest and most experienced dealer networks, Hyster Company builds tough, durable lift trucks that deliver high productivity, low total cost of ownership, easy serviceability and advanced ergonomic features, accompanied by outstanding parts, service and training support.



Hyster Company is a division of Hyster-Yale Group, a wholly owned subsidiary of Hyster-Yale Materials Handling, Inc. (NYSE:HY). Hyster-Yale Materials Handling, Inc. and its subsidiaries, headquartered in Cleveland, Ohio, employ more than 5,300 people world-wide.



Hyster and   are registered trademarks in the United States and certain other jurisdictions.



Company Contact:

Kristin Olson

Hyster-Yale Group, Inc.

252-561-7086

kristin.olson@hyster-yale.com










More from Controls & Controllers