Battery Management IC monitors up to 256 cells in series.
Press Release Summary: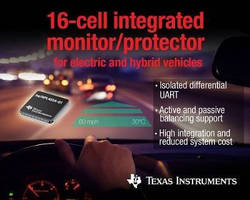 Designed to measure 16 stacked battery cells simultaneously, Model bq76PL455A-Q1 provides cell-voltage monitoring for large batteries with up to 256 cells in series. Unit enables accurate computation of battery pack's state of charge and state of health. Passive cell balancing compensates for charging voltage mismatches, while active cell balancing maximizes amount of each charge. IC is suited for battery management in electric vehicles, hybrid electric vehicles, and grid energy storage systems.
---
Original Press Release:

TI Delivers First 16-cell Integrated Li-ion Monitor and Protector for Hybrids, Electric Vehicles and Grid Storage



Highly integrated battery management IC monitors up to 256 cells in series



DALLAS, -- Texas Instruments (TI) (NASDAQ: TXN) today introduced the industry's first integrated battery monitor and protector to measure 16 battery cells at one time. The bq76PL455A-Q1 provides highly accurate cell-voltage monitoring for large batteries with up to 256 cells in a series and can enable a more intelligent battery management in electric vehicles, hybrid electric vehicles, and grid energy storage systems. For more details, visit www.ti.com/bq76pl455a-pr.



The bq76PL455A-Q1 enables accurate computation of a battery pack's state of charge and state of health by precisely measuring cell voltage and also provides active and passive cell-balancing support to extract the maximum amount of energy from the battery. Passive cell balancing compensates for charging voltage mismatches, while active cell balancing maximizes the amount of each charge. For hybrid and electric vehicles, this can lead to a decreased production cost for manufacturers while supporting an increased mileage range for drivers.



System integrators use the bq76PL455A-Q1 to develop innovative battery management systems including considerations for efficiencies and safety. "Preh was pleased to work with TI to implement design features that differentiate our battery management system offering," said Dr. Joachim Wagner, Head of Product Management and Pre-Development, Preh GmbH. "We intend to use our solution in several automotive and non-automotive applications providing our customers with innovative solutions."



Key features and benefits of the bq76PL455A-Q1:



--  Monitors 16 stacked cells: Allows the accurate monitoring and protection of large battery packs with up to 256 cells in a series. The bq76PL455A-Q1's isolated differential UART also enables designers to eliminate the need for expensive controller area network (CAN) and isolators, further reducing bill of materials.

--  Reduces printed circuit board (PCB) size and system cost: The high integration features of the bq76PL455A-Q1 allows designers to use a single device, while other solutions could require as many as four devices for a 48V system.

--  Features highly accurate cell-voltage monitoring: Enables accurate computation of state of charge and state of health.

--  Helps system integrators to achieve system level functional safety (e.g. ISO26262) goals: Overvoltage/under-voltage comparators with a separate voltage reference and built-in self-tests for defined internal functions, open-wire detection, etc. Safety documentation is available on ti.com.

--  Increases battery lifetime and range: The bq76PL455A-Q1 provides support for both passive and active balancing (in conjunction with TI's EMB1428Q switch-matrix gate driver and EMB1499Q bidirectional current DC/DC converter.)



Tools and support to speed design

The bq76PL455A-Q1 evaluation module (bq76PL455EVM) and bq76PL455A-Q1-EVM-GUI-SW graphical user interface tool enables customers to quickly and easily evaluate device features and performance to help speed time to market. A TI Design reference design is also available for step-by-step guidance for passive balancing.



Package, pricing and availability

The bq76PL455A-Q1 device is now available in the TI store and through the company's authorized distribution network. The product comes in a thin quad flat pack (TQFP) 80 package and is priced at US$14.95 in 1,000-unit quantities.



For more information about TI's battery-management portfolio:



--  Read the blog post, "From millivolt to miles: How the performance of battery management ICs affects the performance of the car I drive."

--  Visit the TI E2E(TM) Community Battery Management forum, where engineers can search for solutions, get help, share knowledge, and solve problems with fellow engineers and TI experts.



About Texas Instruments

Texas Instruments Incorporated (TI) is a global semiconductor design and manufacturing company that develops analog integrated circuits (ICs) and embedded processors. By employing the world's brightest minds, TI creates innovations that shape the future of technology. TI is helping more than 100,000 customers transform the future, today. Learn more at www.ti.com.



Trademarks

TI E2E(TM) is a trademark of Texas Instruments. All registered trademarks and other trademarks belong to their respective owners.



CONTACT: Emmily Attyah, Texas Instruments, 214-479-3056, e-attyah@ti.com



More from Software