Battery Management IC maintains always-on 1.8 V operation.
Press Release Summary: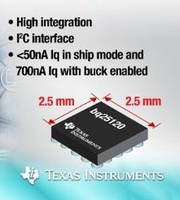 Operating at 1.8 V and with quiescent current of 700 nA, bq25120 integrates linear charger, configurable LDO, load switch, buck converter, pushbutton control, and battery voltage monitor in one 2.5 x 2.5 mm WCSP. Support for batteries from 3.6–4.65 V and fast charge currents from 5–300 mA allows wearables and industrial IoT applications to always be on without draining battery. Accurate charge termination down to 500 µA maximizes energy delivered to battery before completing charging cycle.
---
Original Press Release:

TI Introduces the Industry's Smallest and Lowest Power Battery Management Solution for Wearables and IoT Products



700-nA quiescent current allows long-term, always-on functionality to help get more life out of your device



DALLAS – Delivering optimal battery life while reducing power consumption, Texas Instruments (TI) (NASDAQ: TXN) today introduced a highly integrated battery management solution presenting the industry's lowest quiescent current (Iq) at 700-nA with the buck converter, operating at 1.8V. The bq25120 features a linear charger, configurable LDO, load switch, buck converter, pushbutton control and battery voltage monitor all in one. The solution supports batteries from 3.6-V to 4.65-V, and fast charge currents from 5-mA to 300-mA, allowing wearables and industrial Internet of Things (IoT) applications to always be on without draining the battery. To learn more about the bq25120, please visit www.ti.com/bq25120-pr.



Features and benefits:



--  Lowest quiescent current at 700-nA: The bq25120 maintains an always-on 1.8-V operation using power path technology and a low Iq buck converter. A host microprocessor, such as a TI host microprocessor or Bluetooth® radio, such as TI's SimpleLink™ Bluetooth Smart CC2640 wireless MCU, is able to continue running during recharging by not extracting "empty energy." Designers can also achieve the longest battery shelf life as the solution features standby mode quiescent current of 50-nA.

--  High integration: A configurable load switch/LDO output optimizes the system by shutting off rarely used functions such as radios and displays to minimize battery drain. The solution also includes an integrated battery voltage monitor, enabling a state of charge indicator, buck converter and pushbutton control features.

--  Industry's smallest battery management solution: The solution's 2.5-mm by 2.5-mm WCSP package enables a small footprint making it easier for designers to integrate it into sleek wearable designs. For an even more robust solution, designers can incorporate the CC2640 wireless MCU as it is the industry's smallest QFN package solution with integrated Flash for Bluetooth Smart.

--  Accurate charge termination down to 500-µA: This feature maximizes the energy delivered to the battery before completing the charging cycle, allowing batteries to draw a more robust full charge.

--  Customer flexibility: The bq25120's I2C programming interface gives designers the ability to set key parameters including battery charger voltage, current, termination threshold, input current limit, load switch control, flexible timer and reset options and more.



The bq25120 can be used in conjunction with devices to integrate more end application features. Ultra-low Iq step-down converter, the TPS62743 can be used for additional buck output. Boost converters can also be used for display integration. The TPS61046 offers a 12V boost and the TPS61240 with load connect, offers a 5-V boost for heart rate monitor or small displays.



Tools and support

The bq25120 evaluation module (EVM) allows customers to speed time to market by quickly and easily evaluate device features and performance. The BQ25120EVM-731 is available from the TI Store and authorized distributors for US $99.



Availability and pricing

The bq25120 charger is shipping in volume production and available through the TI Store and the company's authorized distribution network. The product comes in a 2.5-mm by 2.5-mm, WCSP package. The bq25120 is priced at US$1.60 in 1,000-unit quantities.



Find out more about TI's power-management solutions:

--  Check out TI's battery management solutions.

--  Read the blog post: How can your wearable be smaller and last longer?

--  Visit the TI E2E™ Community Battery Management forum to search for solutions, get help, share knowledge, and solve problems with fellow engineers and TI experts.



About Texas Instruments

Texas Instruments Incorporated (TI) is a global semiconductor design and manufacturing company that develops analog ICs and embedded processors. By employing the world's brightest minds, TI creates innovations that shape the future of technology. TI is helping more than 100,000 customers transform the future, today. Learn more at www.ti.com.



Trademarks

TI E2E™ is a registered trademarks of Texas Instruments. All registered and other trademarks belong to their respective owners.



CONTACT:

Katie Worthy

GOLIN

972-341-2580 

kworthy@golin.com 



Emmily Attyah

Texas Instruments

214-479-3056

e-attyah@ti.com



Web Site: http://www.ti.com

More from Test & Measurement