Battery Gas Gauges for Single Li-Ion Cells offer 1% accuracy.
Press Release Summary: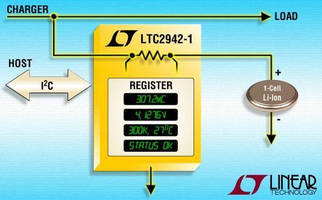 Supplied in 6-pin 2 x 3 mm DFN package with I²C interface for 2.7-5.5 V systems, LTC2941/LTC2942 use continuous-time analog integrator to measure charge directly while minimizing offset and gain error. Both models measure charge flowing in and out of battery to within 1% accuracy at room temperature, but LTC2942 also incorporates 14-bit No Latency Delta Sigma ADC to measure battery voltage and die temperature to within 1.3% and ±5°C accuracy, respectively.
---
Original Press Release:

I²C Battery Gas Gauges for Single Li-Ion Cells Offers 1% Accuracy



MILPITAS, CA - Linear Technology Corporation introduces the LTC2941/LTC2942 battery gas gauges with an I2C interface for 2.7V to 5.5V systems. Unlike most coulomb counters that infer charge by sampling the current and integrating digitally, the LTC2941/LTC2942 use a continuous-time analog integrator to measure charge directly, resulting in minimal offset and gain error and better overall charge accuracy. The LTC2941 measures the charge flowing in and out of a battery to within 1% accuracy at room temperature. The LTC2942 does the same while also incorporating a 14-bit No Latency Delta Sigma ADC to measure battery voltage and die temperature to within 1.3% and ±5°C accuracy, respectively.

The LTC2941 and LTC2942 are best suited for single-cell Li-Ion applications, including cell phones, cameras, MP3 players, and GPS receivers. Battery current is measured by monitoring the voltage across an external sense resistor and integrating this information to infer charge. A bidirectional analog integrator accommodates either current polarity (battery charge or discharge), and a programmable prescaler allows for a wide range of battery capacities. Charge, voltage*, and temperature* information are communicated to the host system over an I2C/SMBus compatible 2-wire interface that is also used to configure the gas gauge. The host can program high and low thresholds for all measured parameters, which if tripped, signal an alert using either the SMBus Alert protocol or by setting a register flag.

The LTC2941 and LTC2942 are offered in commercial and industrial versions, supporting operating temperature ranges from 0°C to 70°C and -40°C to 85°C, respectively. All devices are available today in a small RoHS compliant, 6-pin 2mm x 3mm DFN package. Pricing starts at $1.30 each for the LTC2941 and $1.50 each for the LTC2942, each in 1,000 piece quantities. Please visit www.linear.com for more product selection and information.

*LTC2942

Summary Features: LTC2941 & LTC2942

Indicates Accumulated Battery Charge & Discharge

High Accuracy Analog Integration

14-bit ADC measures Battery Voltage (LTC2942)

Integrated Temperature Sensor (LTC2942)

High-Side Current Sense

1% Charge Accuracy

±50mV Sense Voltage Range

2.7V to 5.5V Operating Range

MBus/I2C Interface

Quiescent Current <100µA

Small 6-pin 2mm x 3mm DFN package

About Linear Technology
Linear Technology Corporation, a manufacturer of high performance linear integrated circuits, was founded in 1981, became a public company in 1986 and joined the S&P 500 index of major public companies in 2000. Linear Technology products include high performance amplifiers, comparators, voltage references, monolithic filters, linear regulators, DC-DC converters, battery chargers, data converters, communications interface circuits, RF signal conditioning circuits, µModule® products, and many other analog functions. Applications for Linear Technology's high performance circuits include telecommunications, cellular telephones, networking products such as optical switches, notebook and desktop computers, computer peripherals, video/multimedia, industrial instrumentation, security monitoring devices, high-end consumer products such as digital cameras and MP3 players, complex medical devices, automotive electronics, factory automation, process control, and military and space systems.
LT, LTC, LTM, µModule and are registered trademarks of Linear Technology Corp. All other trademarks are the property of their respective owners.

Contacts
North America and General Information
John Hamburger
Tel: (408) 432-1900 ext. 2419
jhamburger@linear.com

Doug Dickinson
Tel: (408) 432 1900 ext. 2233
ddickinson@linear.com

More from Cleaning Products & Equipment