Battery-Free RFID Light Detector helps monitor asset exposure.
Press Release Summary: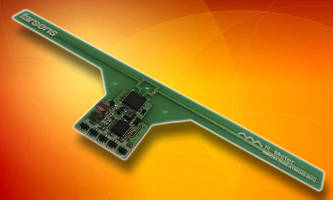 Used to monitor light exposure of tagged assets, The SHADOW is compatible with EPC C1G2 readers and features LPRS N5AC501085 Light Dependent Resistor. Ambient light detector tag has 96 bits EPC number, 32-bit TID, and password-protected Kill command. Built in PCB format and available in various antenna designs and sizes, fully passive tag supports up to 1.5 m communication range and -22 to +185°F operation, and can be embedded in diverse materials and encapsulated in IP67 or IP68 casing.
---
Original Press Release:

Farsens Presents the SHADOW Battery-Free RFID Light Detector



The SHADOW is a new battery-less ambient light detector for monitoring exposure to light of tagged assets



The SHADOW from Farsens S.L., San Sebastián, Spain, is a battery free RFID ambient light detector tag. These tags are compatible with commercial EPC C1G2 readers. It features a LPRS N5AC501085 Light Dependent Resistor (LDR) to detect exposure to light or darkness.



The SHADOW has a 96 bits EPC number, a 32 bit TID and a password protected Kill command. Built in a PCB format, it is available in different sizes. The communication range is up to 1.5 meters and the operating temperatures are from -30°C to +85°C (-22°F to +185°F). These ambient light detector tags are available in a variety of antenna design and sizes, depending on the specific application. They can be embedded in a wide variety of materials such as plastics or concrete and they can also be encapsulated in an IP67 or IP68 casing for usage in harsh environments. Evaluation kits are available.



The fact that the detector is fully passive makes it ideal for hardly accessible or restricted areas and those where the use of batteries is not recommended. The SHADOW will never require a battery change, saving the costs associated to maintenance.



SHADOW tags are used in automation applications where exposure to light of tagged assets change during the process. Monitoring the changes allows the user to program a variety of procedures based on process time/status and the detector data. They are usually embedded in sealed places where exposure to light is scarce. Having an exposure is an indicator that a specific action is being taken or needs to be taken, depending on the specific application.



Farsens designs and manufactures full passive RFID sensor solutions. Their proprietary UHF RFID IC allows Farsens to develop long range solutions for asset tracking – via the unique ID – and monitoring – via the attached sensor – without the need of any battery on the tag.



CONTACT INFO

Company: Farsens S.L.

Country: Spain (SP)

Email: info@farsens.com

Phone: +34 943308013

Fax: +34 943308013

URL: http://www.farsens.com

Related