Battery Charger suits small scissor lifts.
Press Release Summary: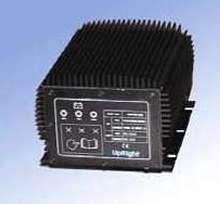 SuperCharger, designed for Models MX and X electric scissor lifts, has waterproof rating to avoid damage from pressure washing. It provides auto-seek voltage ranging from 90-250 V, coupled with 50-60 Hz cycle range. Unit will charge batteries from empty up to 98% of their capacity. Low voltage cut-out helps prevent high amperage spikes from running batteries too low.
---
Original Press Release:

More Energy-Efficient Scissors


In the past 18 months, UpRight has phased a new generation of battery chargers into its complete scissor range - the SuperCharger.

Following three years of close collaboration with a battery charger manufacturer, UpRight has developed a range of chargers specifically designed for small scissor lifts, including its MX and X electric scissors. The SuperCharger has a waterproof rating (rather than the usual water resistant rating) to avoid
damage from pressure washing or the elements. It provides auto-seek voltage ranging from 90 to 250 volts, coupled with 50 to 60 hertz cycle range, so it can be used virtually anywhere in the world with the same charger. The wide voltage range - typically the range of most chargers only spans 20 volts or so - avoids the situation where a user plugging the machine into a long extension lead returns the next morning to find his unit uncharged as result of the fall off in voltage due to long lead resistance.

The UpRight charger will also charge batteries from empty - most chargers need a few volts in the batteries to get the cycle going. The new SuperCharger has a low voltage cut-out to help prevent users from 'cooking' the batteries or causing high amperage spikes from running the batteries too low.

In addition to the above, the SuperCharger will take batteries right up to 98% + of their capacity rather than the typical 90-95%. The SuperCharger has been designed to be virtually "bullet proof" in terms of reliability. In three years of testing and development, reliability has been near-perfect and takes UpRight one more step towards making the small scissor lift as reliable and dependable as well proven domestic appliances such as a TV set or a refrigerator.

For further information, please contact:
Pam Penny/Andrew Paul, UpRight Marketing U.S.A.
Tel: +1 (559) 662 3900 Fax: +1 (559) 673 6184
Email: marketing@upright.com www.upright.com

More from Packaging Products & Equipment