Battery Charger IC has solution size of 5.6 cm².
Press Release Summary: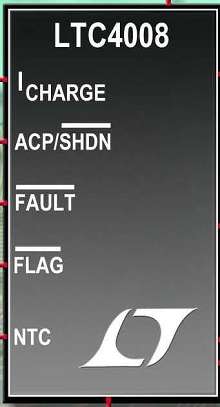 Multi-cell, multi-chemistry LTC4008 includes I/O signals for reporting of system status. When interfaced with microcontroller, unit is capable of charging NiCd, NiMH, Li-Ion, and sealed lead-acid batteries. Product drives external MOSFETs synchronously to achieve over 95% efficiency. With no audible noise during operation, unit offers programmable charging current to ±4% accuracy.
---
Original Press Release:

4A Multi-Cell, Multi-Chemistry Battery Charger IC Cuts Circuit Size by Half


MILPITAS, CA - March 19, 2003 - Linear Technology Corporation introduces the LTC4008, a 4A multi-cell, multi-chemistry battery pack charger with a solution size of only 5.6cm² (50% smaller than conventional high power battery charger designs). The LTC4008 also reduces the cost of a charger design by eliminating the need for more than 40% of the discrete components. The IC's high efficiency operation from high input voltage and low dropout power conversion allow a designer to optimize the choice of an AC/DC adapter based on size, cost and weight. The LTC4008 includes I/O signals for simple reporting of the system status, which a microcontroller can then use for precision gas gauging, power management and comprehensive display of the charging condition. When interfaced with a microcontroller, the LTC4008 is capable of charging NiCd, NiMH and sealed lead-acid batteries as well as Li-Ion. Typical applications include battery charger cradles, uninterruptible power supplies, portable data terminals and notebook PCs.

The LTC4008 drives external MOSFETs synchronously to achieve over 95% efficiency even when operating from high input voltage and delivering up to 4A of charge current. Unlike many industry standard battery chargers, the LTC4008 guarantees no audible noise operation with all types of output capacitors including ceramic. Charging current is programmable to ±4% accuracy with external resistors. The LTC4008's AC adapter current limit allows an end product, such as a notebook PC, to operate simultaneously as the battery pack is being charged at the maximum rate without overloading the AC adapter. Moreover, the LTC4008 includes a thermistor sensor input that will suspend charging if an unsafe temperature condition is detected and will automatically resumes charging when battery temperature returns to within safe limits.

The LTC4008 is offered in a 20-pin SSOP package. Pricing for 1,000-quantity starts at $3.70 each.

Summary of Features: LTC4008
o General Purpose Battery Charger Controller
o Small Solution of 5.6cm²
o 50% Less Discrete Components: Capacitors, Resistors, and Diodes
o Indicator Outputs for Charging, C/10, Current Detection, AC Adapter Present, Input Current Limiting and Faults.
o Precision 4% Charge Current
o ±0.8% Voltage Accuracy
o AC Adapter Current Limiting Maximizes Charge Rate without Overloading AC Adapter
o Wide Input Voltage Range form 6V to 28V
o Wide Output Voltage Range from 3V to 28V
o Small 20-Pin SSOP

COMPANY BACKGROUND: Linear Technology Corporation was founded in 1981 as a manufacturer of high performance linear integrated circuits. Linear Technology products include operational, instrumentation and audio amplifiers; voltage regulators, power management devices, DC-DC converters and voltage references; comparators; monolithic filters; communications interface circuits; one-chip data acquisition sub-systems; pulse-width modulators and sample-and-hold devices; and high frequency devices. Applications for Linear Technology's high performance circuits include wireless and broadband telecommunications infrastructure, cellular telephones, networking products and satellite systems, notebook and desk top computers, computer peripherals, video/multimedia, industrial and medical instrumentation, automotive electronics, factory automation, process control, military and space systems, and high-end consumer products including digital cameras, MP3 players and other electronic products.

For more information, contact:
Doug Dickinson, Media Relations Manager
Linear Technology Corporation
1630 McCarthy Boulevard
Milpitas, CA 95035-7417
ddickinson@linear.com
408-432-1900

READER SERVICE: Call toll-free 1-800-4-LINEAR (for literature only), or go to the company's web site: www.linear.com


More from Packaging Products & Equipment