Battery Charger features integrated micropower comparator.
Press Release Summary: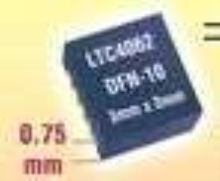 Standalone Model LTC4062 charges Li-Ion batteries to 4.2 V float voltage with ±0.35% accuracy. It includes adjustable timer for charge termination, soft-start circuit to minimize inrush current, and thermal regulation circuit to keep junction temperature at safe level. I/O pins report state-of-charge during trickle, normal, and end-of-charge modes. SmartStart(TM) feature prolongs battery life by eliminating unnecessary re-charge cycles.
---
Original Press Release:

Standalone Li-Ion Charger in 9mm² with Micropower Comparator


Milpitas, CA - March 8, 2005 - Linear Technology Corporation introduces the LTC4062, a compact standalone linear single 1-cell Li-Ion battery charger with integrated micropower comparator. It offers advanced features for charging safety, increased charge termination flexibility, improved status reporting, and prolonged battery life. For safety, the LTC4062 is equipped with an adjustable timer for charge termination and a precision float voltage to prevent overcharging of the cell. To eliminate the risk of overheating while charging at a maximum rate, a patented thermal regulation circuit keeps the LTC4062's junction temperature at a safe level. Moreover, I/O pins report the state-of-charge during trickle, normal and end-of-charge modes.

The LTC4062 includes an integrated precision, micropower comparator. This is an undedicated comparator with a general purpose input and open-drain output. Potential uses include low battery detection or precision input voltage detection.

The LTC4062 prolongs battery life by eliminating unnecessary re-charge cycles with its SmartStart(TM) feature. Because frequent re-charge cycles decrease battery capacity and shorten battery life, SmartStart operation prevents a new charge cycle from starting if the battery voltage is above 4.1V when power is first applied to the charger. The IC also offers several methods of charge termination: user adjustable current and charge time, external digital control or automatic C/10. The LTC4062 is housed in a 3mm x 3mm DFN package and is ideal for charging a battery from a wall adapter or USB in MP3 players, digital cameras, PDAs and cell phones.

The LTC4062 can charge Li-Ion batteries to a 4.2V float voltage with ±0.35% accuracy. The device requires no external sense resistor, MOSFET or blocking diode, greatly simplifying design. In addition, the LTC4062 includes a soft-start circuit to minimize inrush current at the start of a charge cycle. For USB-powered charging, the logic pin from a USB controller can select low power or high power compliant charge currents, eliminating dependence on external discrete components. At any point in the charge cycle, the LTC4062 can be shut down, limiting battery current drain to less than 2uA.

The LTC4062 is offered in a 10-lead 3mm x 3mm DFN package. 1,000-piece pricing starts at $1.95 each.

Summary of Features: LTC4062
Standalone Charger with Charge Current Programmable to 1A
Charges Single Cell Li-Ion Batteries Directly from USB Port
High Float Voltage Accuracy: ±0.35%
Micropower Comparator for Battery Monitoring or AC Present Detection
Thermal Regulation Maximized Charging Rate without Risk of Overheating
Programmable Charge Current Detection/Termination
Programmable Charge Termination Timer
SmartStart Charging Algorithm Prolongs Battery Life
Smart Pulsing Fault Indication Feature
Low Profile 10-Lead DFN Package (3mm x 3mm x 0.75mm)

Company Background
Linear Technology Corporation was founded in 1981 as a manufacturer of high performance linear integrated circuits. Linear Technology products include high performance amplifiers, comparators, voltage references, monolithic filters, linear regulators, DC-DC converters, battery chargers, data converters, communications interface circuits, RF signal conditioning circuits, and many other analog functions. Applications for Linear Technology's high performance circuits include telecommunications, cellular telephones, networking products such as optical switches, notebook and desktop computers, computer peripherals, video/multimedia, industrial instrumentation, security monitoring devices, high-end consumer products such as digital cameras and MP3 players, complex medical devices, automotive electronics, factory automation, process control, and military and space systems.

North America
John Hamburger
Tel: (408) 432-1900 ext. 2419
jhamburger@linear.com

Doug Dickinson
Tel: (408) 432 1900 ext. 2233
ddickinson@linear.com

More from Fluid & Gas Flow Equipment