Batteries have Absorbent Glass Mat (AGM) technology.
Press Release Summary: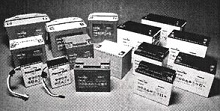 PowerSafe G family reformulated, sealed, lead-calcium, 6 and 12 V rechargeable batteries are designed with gas recombination technology. They utilize high purity lead and electrolyte. They also offer minimal gas evolution and sealed, spill-proof construction. PowerSafe GA is available in 8 models from 9.5 to 92 Ah. PowerSafe GAX is available in 4 models from 65 to 125 Wpc (Watts per cell). PowerSafe GEL is available in 4 models from 30 to 87 Ah.
---
Original Press Release:
Hawker Introduces New Powersafe G Family Of Reformulated Sealed Lead-Calcium Rechargeable Batteries

WARRENSBURG, Mo. - Hawker Energy Products Inc., a leading manufacturer of premium rechargeable batteries for more than 27 years, today announced the introduction of its new PowerSafe G family of reformulated sealed lead-calcium 6-volt and 12-volt rechargeable batteries.

The PowerSafe G valve-regulated (VRLA) sealed product line comes in three models - GA, GAX and GEL - and is ideally suited for a variety of applications where price, along with Hawker's reputation for high quality and reliability, are key considerations.* These applications include telecommunications, information technology, standby power, uninterruptible power supply, general applications, and motive industries.

PowerSafe batteries have been specifically enhanced for improved performance and durability through Hawker's unique use of high purity lead and electrolyte, and higher compression rates.* Each battery is designed with proven gas recombination technology which eliminates the need for regular water addition by controlling the evolution of hydrogen and oxygen during charging.* The minimum level of gas evolution and the sealed, spill-proof construction allow battery installation in cabinets or on stands, in offices or near main equipment, thus providing the highest level of safety, reliability, space efficiency, and low storage and maintenance costs.* PowerSafe batteries are also approved for air transport by the Department of Transportation and IATA, and are certified by the Federal Aviation Administration and CAA.*

"PowerSafe G batteries are the ultimate power source for numerous applications due to their superior features including high performance, rugged design and exceptional value," said Van Vandergeest, Director of Sales and Marketing for Hawker Energy Products.* "Their lower price point make them a perfect complement to our other premium battery lines."* He added, "We're very proud of the international reputation we've earned for manufacturing the highest quality and most reliable batteries in the business."

PowerSafe GA
* Available in 8 models: 9.5 Ampere-hour (Ah), 18 Ah, 27 Ah, 30 Ah, 33 Ah, 55 Ah, 75 Ah, 92 Ah
* Absorbent Glass Mat (AGM) technology for superior performance
* Rugged ABS and PP plastic case and cover
* U.L. recognized under MH 14328
* Multiple terminal options to meet varying application requirements

PowerSafe GAX
* Available in 4 models: 65 Watts per cell (Wpc), 100 Wpc, 105 Wpc, 125 Wpc
* Absorbent Glass Mat (AGM) technology for superior performance
* Rugged VO-rated flame-retardant plastic case and cover
* U.L. recognized under MH 14328
* Multiple terminal options to meet varying application requirements
* Can be operated in any orientation except inverted

PowerSafe GEL
* Available in 4 models: 30 Ampere-hour (Ah), 50 Ah, 70 Ah, 87 Ah
* Proven gel electrolyte technology delivers maximum cycle life and prolongs life in high temperatures
* Unique grid alloy enhances deep cycle performance
* Multiple terminal options to meet varying application requirements
More from Controls & Controllers