Bath/Shower Amenity Dispenser helps hospitality reduce waste.
Press Release Summary: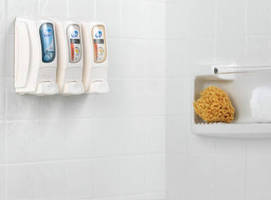 Used for away-from-home hair and body care, Dial® Eco-Smart® Amenity Dispenser helps hotels, cruise lines, and healthcare facilities reduce plastic waste. Wall-mounted dispenser is constructed from ABS plastic, and 100% recyclable refill bottles, which hold 15 oz of product, eliminate use of small bottles. Reservoir tank in dispenser allows consumers to use entire contents of refill without any waste, and locking mechanism with non-corrosive key helps prevent tampering and vandalism.
---
Original Press Release:

Henkel introduces Dial® Eco-Smart® Amenity Line



The Dial® Eco-Smart® Amenity Dispenser from Henkel has put a new spin on traditional bath and shower amenities, giving the hospitality industry the chance to save green by going green. Hotels, cruise lines, healthcare facilities and more can reduce their plastic waste by up to 90 percent and their costs by at least 50 percent by converting to the Dial® Eco-Smart® dispensing system.



Innovation and sustainability are key features of Dial® Eco-Smart® amenity dispensers and refills, which eliminate the traditional small bottles and instead use an innovative wall-mounted dispenser for away-from-home hair and body care. Dial® Eco-Smart® supports Henkel's sustainability objective to triple the value created by its products and technologies' environmental footprint by 2030. This ambitious goal aims to ensure that society continues living well and within the limits of our planet.



The dispenser is constructed from ABS plastic, the same material used in football helmets, assuring strength and durability. The 100 percent recyclable refill bottles hold 15 oz. of product. This helps increase housekeeping efficiency by more than 10 percent because there are no small amenity bottles to discard. A special reservoir tank in the dispenser allows consumers to use the entire contents of the refill without any waste.  Additionally, a unique locking mechanism with a non-corrosive key helps prevent tampering and vandalism.



Knowing that establishments have diverse customer needs, a variety of product options are available for the Dial® Eco-Smart® dispenser, including hand soap, body wash, shampoo, and conditioner that help make the customer experience more comforting and memorable. When guests see the trusted Dial® brand, they will enjoy peace of mind knowing the hotel values their experience away from home. The Dial® Eco-Smart® amenity line allows businesses and consumers to upgrade their soap and body wash experience while being environmentally sustainable.



Contact

Name Natalie Violi

Corporate Communications, Laundry & Home Care, Beauty Care North America

Phone +1 480-754-5442

Email

Send E-Mail

More from Materials