Batch Wet Processing System enhances semiconductor production.
Press Release Summary: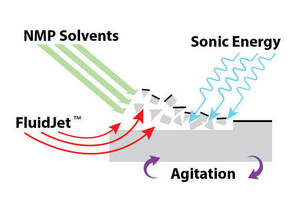 Used for metal liftoff in MEMS and compound semiconductor manufacturing, FluidJet™ eliminates device damage and minimizes chemical use. Gentle cleaning suits sensitive metal features and thin lines, while use of batch immersion processing removes metals and eliminates redeposition and defects. Self-cleaning tanks and accessible metal collection baskets facilitate complete reclamation of lifted metals, and strainer baskets can be emptied in minutes.
---
Original Press Release:

MEI's FluidJet(TM) Metal Liftoff System Achieves Breakthrough for Compound Semiconductor Production



Company's patented process achieves superior metal lift-off performance, reducing damage, chemical consumption, increasing reclaim.



ALBANY, Ore.—MEI, Wet Processing announces FluidJet™ batch wet processing system for metal liftoff in MEMS and compound semiconductor manufacturing, delivering higher yielding, more cost effective metal lift-off processing.



MEI's FluidJet™ batch wet processing system for metal liftoff achieves breakthroughs with no metal re-deposition on either the front side or back side of the wafer, eliminates device damage, while using 80% less chemical than current single wafer processing solutions. In addition, FluidJet™ enables highly efficient, easily obtained Gold and metal reclaim, reducing waste and downtime. FluidJet™ also saves valuable manufacturing floor space by reducing the wet process footprint requirement by at least 60% over comparable throughput single wafer spray tools.



"By adopting the FluidJet™ metal liftoff system, semiconductor manufacturers will increase yield while reducing downtime and chemical costs and disposal," said Dan Cappello, President and CEO, MEI LLC. "As part of our metal lift-off solution, we incorporated the patent-pending FluidJet™ system. FluidJet™ processing is especially important for sensitive metal features and thin lines because the FluidJet cleans the surface gently improving metal liftoff performance at a lower cost. MEI has completed numerous customer demos where side by side "split lot" comparisons of lift-off performance were evaluated for several major compound semiconductor manufacturers. This data demonstrates superior performance on many liftoff and resist strip layers while reducing defects providing significant reductions in chemical use."



About FluidJet™ metal liftoff wet processing system—a new approach.

The FluidJet™ metal lift-off system is unlike today's conventional single wafer metal liftoff systems, using patented batch immersion processing to remove metals and eliminate redeposition and defects. Conventional metal liftoff solutions rely on aggressive, high-pressure sprays. These high velocity sprays produce metal debris that can scratch or tear fine metal features. Metal debris can also redeposit, causing shorts and focus issues. The high pressure spray at elevated temperatures is a significant factor in the consumption of massive amounts of chemical per wafer processed.



The FluidJet™ system's self cleaning tanks and easily accessed metal collection baskets enable lifted metals to be more easily and completely reclaimed. Strainer baskets are emptied in minutes and sized to easily hold several thousand wafers worth of lifted metal.



MEI's FluidJet™ targets semiconductor and MEMS processing applications where Metal Liftoff is required to create create GaAs BiFET device structures for mobile communications devices.



Superior process control. MEI's IDX system, the company's proprietary control software, mines process data from the FluidJet™ wet processing system. This allows engineers visibility into what is occurring in any tank or chamber. MEI also models airflow and fluid flow with special CAD software for detailed design, analysis, documentation, and configuration management. MEI leverages the CAD software's CFD (computational fluid dynamics) capability to support MEI's in-house engineering analysis and design of the customer's process and exhaust systems.



Price and availability

TheFluidJet™ wet processing system is available for purchase immediately. Upon request, MEI will run tests for potential customers, providing verifiable data, and deliver the right equipment needed to meet the customer's metal lift-off goals. For more information about obtaining FluidJet™ processes, please contact MEI at (503) 568-9286 or email Ed Jean at ed.jean@meillc.com.



About MEI Wet Processing Systems and Services:

MEI Wet Processing Systems and Services LLC of Albany, Oregon, is a wet processing equipment and services company serving the semiconductor, MEMs, solar, and high technology industries. MEI Wet Processing has sales offices in the United States, Europe, China and Taiwan. MEI's specialties include patented solutions for wet processing applications, automated and semi-automated wet benches, process systems and services; automated chemical delivery systems; and IDX control automation software. MEI has a commitment to outstanding customer service. www.meillc.com.

More from Laboratory and Research Supplies and Equipment