Batch Ovens Used for Drying Pet Treats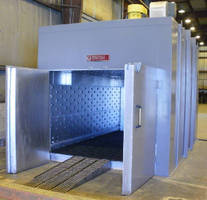 Wisconsin Oven designed and manufactured three (3) natural gas fired batch ovens to dry dog treats for a leading supplier in the industry. The industrial ovens have improved the customer's productivity by decreasing their processing time by 50 percent. The drying batch ovens have chamber dimensions of 8'0" wide x 15'0" long x 6'0" high, a maximum operating temperature of 500º F and a normal operating temperature of 220° F. The customer required temperature uniformity of +/-10° F at 220° F with a standard nine (9) point profile test.

The walk-in ovens are constructed with 4" thick tongue and groove panel assemblies and 20 gauge aluminized steel interiors and ductwork. The industrial ovens also include non-insulated 12 gauge carbon floors with drip pans. The heating systems feature 600,000 BTU per hour air heat burners including motorized gas control valves, flame detectors and flame relays with alarm horns. The recirculation systems have 21,000 CFM @ 20 HP blowers and utilize combination airflow to maximize heating rates and temperature uniformity.

This industrial batch oven has a NEMA 12 control enclosure and the oven temperature is controlled by a Honeywell DCP200 programmable temperature controller. Over temperature protection is provided by a Barber Colman high limit controller.

For further details on this equipment, or if you would like to work with us on another application, call Mark Schahczinski at (262) 642-6017, or email him at marks@wisoven.com. For more information on our batch ovens or to request a quote for a batch oven please visit our website at http://www.wisoven.com/batch-ovens.