Batch Oven Available for Immediate Shipment at a Reduced Price!!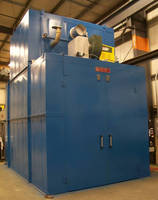 Due to a cancellation, Wisconsin Oven has One (1) Indirect Gas Fired Heavy Duty Walk-In Series Oven, a Model SWH-81610-GR/EP, available for immediate delivery. The oven's original sale price was $150,000 and has been reduced to $100,000! This oven is new and has never been used. The oven was designed for curing composites, and includes many options used in composite curing applications. However, the oven can also be used for a wide variety of other applications, which might include curing, drying, and heat treating.

The oven chamber is 8'0" wide x 16'0" long x 10'0" high. The maximum temperature rating is 500° F with a normal operating temperature of 350° F. The oven is constructed with 6" thick tongue and groove panel assemblies and 20 gauge aluminized steel interiors and ductwork. The heating system features an Eclipse ImmersoPak IL tube fired burner rated at 1,00,000 BTU per hour (gross) piped complete. The recirculation system has a 42,000 CFM @ 30 HP blower and utilizes combination airflow to maximize heating rates and temperature uniformity. The NEMA 12 control enclosure includes IEC style motor starters, push buttons, and pilot lights. The temperature is controlled by a Honeywell DCP100 temperature controller. Data acquisition and recording are performed by a CompuDAS 7000 Multi-Channel Process Monitor.

The exhaust features motorized dampers on both the fresh air inlet and the exhaust outlet for enhanced heating and cooling capabilities. Six (6) vacuum stubs are located on the oven and one (1) vacuum transducer is provided on each vacuum line. A six (6) position type "J" thermocouple jack panel was also provided.

This oven includes our E-Pack(TM) oven upgrade, which will reduce your operating costs and increase your profitability. This high efficiency package includes 2" thicker insulated walls, higher efficiency motors, and other energy saving items. Depending upon your utility rates, operating temperature, and weekly usage, you may be able to save thousands of dollars per year. A typical payback period is 6-15 months. You can contact us for further information and a personalized evaluation, or visit our website at www.oven-epack.com for details.

For further details on this specific equipment, please contact Mr. Nick Toci at (262) 642-6025 or ntoci@wisoven.com. For additional information on our Composite Curing Ovens or to request a quote, visit our website at www.wisoven.com/composite.htm. If you would like to work with us on another application, contact our sales office at (262) 642-3938, or by email at sales@wisoven.com.


More from Software