Batch Oven Ages Aluminum for the Aerospace Industry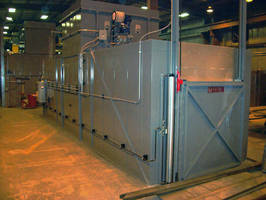 Wisconsin Oven designed and manufactured a gas fired batch oven and non-powered load cart to age aluminum tubes for the aerospace industry. The aluminum tubes range in size from ½" to 3-1/2" diameter and 24' to 30' long with a maximum weight of 1000lbs. The tubes are loaded onto the non-powered load cart and wheeled into the oven. Wisconsin Oven was selected for this project because of their ability to manufacture an end flow oven and guarantee its performance.

This aluminum aging oven has chamber dimensions of 6'0" wide x 33'0" long x 6'0" high and a maximum operating temperature of 800º F. One vertical lift, pneumatically operated door is located at each end of the oven. The oven is constructed with 8" thick tongue and groove panel assemblies and 18 gauge aluminized steel interiors and ductwork. The heating system features a 1,500,000 BTU per hour air heat burner including a motorized gas control valve, flame detector and flame relay with alarm horn. The recirculation system provides end airflow (where 100% of the heated air is supplied at 1 end of the work chamber, and it flows horiztonally to a return duct located on the opposite end). The recirculation system utilizes a 37,200 CFM @ 30 HP blower.

The customer required a 9-point temperature uniformity of +/-10° F at 350° F. Actual temperature uniformity results were +5.5/-3.5 @ 375°F. The oven has a NEMA 12 control enclosure with IEC style motor starters, push buttons, and pilot lights. The temperature for the oven is controlled by a Honeywell DCP100 programmable controller and recorded by a Honeywell DR4300 recorder.

The customer also added Wisconsin Oven's energy efficient E-Pack(TM) oven upgrade which includes thicker wall panels, higher efficient motors, a door limit switch, and a few other energy saving items, that will reduce their operating costs.

For further details on this equipment, or if you would like to work with us on another application, call our sales office at (262) 642-3938, or by email at sales@wisoven.com. For more information on Wisconsin Oven's aluminum age ovens to request a quote, visit http://www.wisoven.com/Aluminumageoven.htm.

More from Software