Batch Coders mark on curved/round/circular surfaces.
Press Release Summary: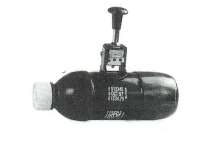 Shapex self-inking batch coders/stampers are available with hand batch coders/stampers for specific applications, interchangeable characters for customized messages, and fast drying inks. Product line includes: Bottomex Batch Coder, Capex Batch Coder, Curvex Batch Coder, Cupex Batch Coder, and Bottlex Batch Coder.
---
Original Press Release:
SHAPEX Self-Inking Batch Coder/ Stampers For Marking On Caps/ Bottoms/ Curved/ Round/ Circular Surfaces

If you thought JMD could solve all of marking and coding needs before, with its high quality, low cost, marking and coding machines, wait till you see what we have now!

JMD has line of SHAPEX self-inking batch coders/ stampers. Within this line are hand batch coder/stampers especially designed for specific applications where bulky machines may not work? The product line includes:

1. Bottomex Batch Coder to code on the bottom of containers, jars, bottles, etc.

2. Capex Batch Coder for caps of containers

3. Curvex Batch Coder for the sides of curved/round/circular surfaces

4. Cupex Batch Coder for Marking on yogurt, ice cream cups

5. Bottlex Batch Coder for marking on the necks of upto 12 oz. Bottle.

All of these Coders/ Stampers can be used with interchangeable characters to customize your message and fast drying inks. There are different sizes of batch coders to suit your specific requirements.

Interested in finding out more about this exciting product line?

Contact:

JMD Manufacturing, Inc., 59 Fountain Street, Framingham, MA 01702
Tel: 508-620-6563 :: 1-800-752-5563:: Fax: 508-620-7563
E-mail: info @ jmdmfg.com :: www.jmdmfg.com

January 2004
More from Electrical Equipment & Systems