BASF Expands Deployment of VeriWise(TM) Track and Trace to Manage Fleets of Transportation Assets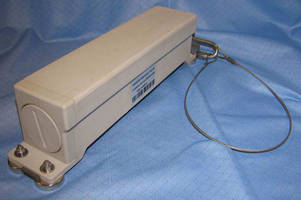 Woodcliff Lake, NJ - I.D. Systems, Inc. (NASDAQ: IDSY), a leading provider of wireless solutions for securing, tracking and managing high-value enterprise assets, today announced that BASF (FRA: BAS), the world's leading chemical company, is expanding its deployment of I.D. Systems' VeriWise(TM) Track and Trace systems for managing fleets of trailers, totes, and railcars.

VeriWise Track and Trace provides real-time data to improve the efficiency and security of transportation fleets. It is designed for quick, flexible installation on a wide range of cargo-carrying assets, with patented power management technology to provide exceptionally long battery life and years of maintenance-free operation. Track and Trace is also unique in its intrinsic safety, with Underwriter Laboratories' highest certification for use in proximity to hazardous materials.

BASF (www.basf.us) manufactures a broad portfolio of chemicals, plastics, petroleum, crop protection products, and other materials that contribute to resource conservation, healthy food and nutrition, and an enhanced quality of life. Based in Ludwigshafen, Germany, with North American headquarters in Florham Park, New Jersey, BASF is ranked 71st on the "Global 100" list of the world's largest companies, with 2011 revenues of more than Euros73 billion.

"The safe and secure transportation and storage of our products is part of BASF's commitment to social responsibility and environmental protection," said Steven P. Williams, BASF Logistics Technology Manager. "We are deploying VeriWise on a diverse range of transportation assets because the system improves our efficiency reliably and cost-effectively, is easy to install and maintain, and is intrinsically safe for our sensitive materials.

"We integrate real-time asset location data from VeriWise with other information systems to eliminate blind spots in the supply chain, schedule shipment deliveries more accurately, and meet or exceed government safety and security standards across the United States, Canada, and Mexico."

Darryl Miller, Chief Operating Officer of I.D. Systems, said, "We are gratified to expand our relationship with BASF. We remain committed to helping BASF optimize the efficiency of its North American supply chain through our affordable, easy-to-deploy asset tracking systems. At the same time, we are proud of the key role our technology plays in helping BASF meet regulatory requirements for the safe transport of its products."


More from Electronic Components & Devices