Baseband Video and Stereo Audio Baluns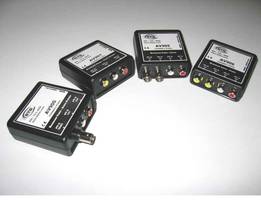 Baluns that save time and money!
The ETS Baseband Video/Stereo Audio Baluns are used for point-to-point replacement of coaxial (video) and shielded (high impedance audio) cables with Category5 or better UTP wiring.
The AV900 Balun Series is designed for installations that have a need for separate audio channels. As an example, the AV905 and AV906 allow you to send two channels each of baseband video and audio in any direction desired.This capability yields a bi-directional video + mono audio link. There are many other configurations to and including wall-plate versions, making these baluns quite versatile for use in classrooms, home theaters, churches, security and satellite TV facilities.
Replacement of coaxial cable with Category5 or better wiring significantly reduces costs and weight, making these baluns popular with installers.
ETS Baseband Video/Stereo Audio Baluns - not the most expensive, just the best!
Only Neutrik connectors are used in ETS products.
Visit! Energy Transformation Systems, Inc.
Website: http://www.etslan.com
About ETS - Woman Owned Small Business
Fremont, CA - Since 1967, beginning with custom-made transformers and continuing since 1981 as innovators of balun, hub, adapter and splitter technology, ETS provides a wide range of media conversion solutions for audio, data and video for analog or digital installations over structured wiring systems. ETS provides you solutions with 100% guaranteed USA-Made products.
ENERGY TRANSFORMATION SYSTEMS, INC.
The Media Conversion Company
43353 Osgood Road
Suite B Fremont CA 94539
Sales Contact:
Name: Joe Rosenberger,
VP Marketing & Sales
Email address: jrosenberger@etslan.com
(T) 800-752-8208, 510-656-2012
(F) 510-656-2026
More from Electronic Components & Devices