Barrier / Mixing Screw Solves Chronic Problem of Rejects on Pipe Extrusion Line at Polyethylene Technology Inc.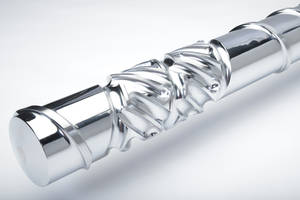 Nordson's Xaloy® Efficient™ Screw with Nano™ Mixer Ended Surging that Had Caused Wall Variations of +/- 50%, Enhanced Dispersion of Carbon Black, and Increased Throughput
Lakeville, MN, U.S.A., March 11, 2020: A new Xaloy® screw designed by Nordson Corporation put an end to a long series of troubles on a pipe extrusion line that had defied numerous attempts at a solution.
The line, operated by diversified pipe manufacturer Polyethylene Technology Inc., would exhibit wide fluctuations in throughput caused by surging and, for heavy-wall HDPE pipe, consistently exhibited variation from the target wall thickness of 0.097 in (2.46 mm).
"We tried all sorts of solutions," said Brad Williams, senior manufacturing manager. "We looked for problems with the motor drive and the puller, tested four or five alternate resins, and finally got a new screw and relined barrel - all with no success. Our gravimetric extrusion control showed fluctuations occurring every five or ten seconds."
An additional trouble with the extrusion line was poor mixing of carbon black, whose required addition level was 2%. "We couldn't get a good mix, and there were always areas of the pipe with too little carbon black," Mr. Williams said.
Polyethylene Technology turned to Nordson within months of receiving the screw from another supplier. "We recommended our Xaloy Efficient™ barrier screw with a Nano™ mixer in the metering section," said Brad Casale, Nordson regional sales manager. "By preventing premature break-up of solids and increasing melting rates, the Efficient screw has enhanced mixing and increased throughput in the Polyethylene Technology extrusion line. The Nano mixer has provided intensive dispersionary mixing of the carbon black."
Besides solving the surging problem and delivering a homogeneous melt, the new Xaloy screw increased the output of the extrusion line. "As a result of using the new Xaloy screw, our target output rate has increased by 12%," said Brad Williams.
Founded in 1980, Polyethylene Technology Inc. manufactures polyethylene pipe for municipal water, geothermal, pump and well, and irrigation applications. It is headquartered at 21670 Hamburg Avenue, Lakeville, MN 55044 U.S.A. Tel: 1-952-469-2198. Email: sales@polytechpipe.com. Visit www.polytechpipe.com. 
Nordson Corporation engineers, manufactures and markets differentiated products and systems used for the precision dispensing of adhesives, coatings, sealants, biomaterials, polymers, plastics and other materials, fluid management, test and inspection, UV curing and plasma surface treatment, all supported by application expertise and direct global sales and service. Nordson serves a wide variety of consumer non-durable, durable and technology end markets including packaging, nonwovens, electronics, medical, appliances, energy, transportation, construction, and general product assembly and finishing. Founded in 1954 and headquartered in Westlake, Ohio, the company has operations and support offices in more than 30 countries. Visit Nordson on the web at http://www.nordson.com, @Nordson_Corp, or www.facebook.com/nordson.
Nordson Polymer Processing Systems provides customers with engineered components to melt, homogenize, filter, meter, and give shape to plastic and fluid coating materials. Nordson Corporation leverages the collective plastics industry experience from a series of strategic acquisitions to offer a uniquely broad portfolio of industry-leading technologies. Nordson delivers a full range of precision melt stream products — from screws and barrels for extrusion and injection molding — to filtration systems, pumps, and valves — to the extrusion dies and pelletizing systems to meet the constantly evolving needs of the polymer industry.
Nordson Corporation provides customers with local technical sales, service and remanufacturing capabilities through sales organizations and regional manufacturing facilities in over 30 countries. To learn more visit us at http://www.nordsonpolymerprocessing.com or www.facebook.com/NordsonPPS.
Press Contact:
Martino Communications
Robert J. Martino
Tel: 1-203-321-0787
bob@martinocommunications.com
More from Controls & Controllers