Barrier Films suit thermoformable, heat-sealable packaging.
Press Release Summary: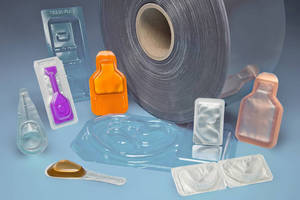 High-barrier, Barex®-alternative packaging structures feature materials targeting pharmaceutical, medical, cosmetic, food, and other applications. Thermoformable blister/tray film structures offer such options as PE, PP, and Aclar® polychlorotrifluoroethylene inner and outer layers coupled with either ethylene vinyl alcohol copolymer (EVOH) and/or cyclic olefin copolymer (COC). Heat-sealable pouch/lidding flexible materials are offered in various paper/foil/plastic and EVOH combinations.
---
Original Press Release:

Tekni-Films Announces Extensive Line of High-Barrier, Barex-Alternative Specialty Films, for Thermoformable, Heat-Sealable Packaging Applications



Tekni-Films announces extensive line of high-barrier, Barex-alternative specialty films, for thermoformable, heat-sealable packaging applications



King of Prussia, Penn. —Tekni-Films, a division of Tekni-Plex, Inc., has developed an extensive line of high barrier, Barex® alternative packaging structures that are available globally. The materials target a wide variety of demanding pharmaceutical, medical, cosmetic, food and other applications.



"Many of these films were commercialized over the past year. In light of the recent announcement that Barex manufacturing operations will be shut down, we want the industry to know that the desired performance attributes can still be met with our cost-effective alternative materials," said David Andrulonis, vice president and general manager, Tekni-Films.



The company has multiple thermoformable blister/tray film structures as well as heat-sealable pouch/lidding options that equal or exceed the performance attributes required by customers for these laminations.



Tekni-Films' thermoformable options include polyethylene (PE), polypropylene (PP) and Aclar® polychlorotrifluoroethylene (PCTFE) inner and outer layers, coupled with either ethylene vinyl alcohol copolymer (EVOH) and/or cyclic olefin copolymer (COC) for enhanced barrier properties. In addition, Tekni-Films' heat-sealable pouch/lidding flexible materials have been commercialized in a variety of paper/foil/plastic (PE, LDPE, PET) and EVOH combinations to suit a broad range of applications.



Thermoformable film packaging applications target pharmaceutical, medical, personal care, food and animal health products.  Pouch applications include transdermal patches, and solid and liquid dose drug delivery systems.



"Although we have many products in our portfolio, Tekni-Films is most frequently called upon to provide custom solutions.  We use the resources at our Global Technology Center in Ohio to develop and test structures so that they meet the stringent demands of specific applications. Our global manufacturing footprint also makes us ideally suited to handle the requirements of multinational companies," Andrulonis concluded.



About Tekni-Films

Tekni-Films is a leading manufacturer of stock and custom high barrier films, foils and pouch materials for the pharmaceutical, medical, diagnostic, health and beauty industries.  With its more than 40 years of experience and operations in North America, South America and Europe, Tekni-Films is well positioned to provide global packaging solutions. For more information visit www.tekni-films.com.



About Tekni-Plex, Inc.

Tekni-Plex is a globally-integrated company focused on developing and manufacturing innovative packaging materials and precision-crafted tubing solutions for some of the most well-known names in the healthcare, food and beverage, consumer and specialty-product markets. Tekni-Plex is headquartered in King of Prussia, Penn. and operates more than 20 sites, strategically located across four continents, to ensure it can meet the needs of its global customers. For more information visit www.tekni-plex.com.



Sales inquiries:

David Andrulonis

Tekni-Films

phone: 419-491-2402

email: FilmsNorthAmer@tekni-plex.com

www.tekni-films.com

More from Thermal & Heating Equipment