Barrier Film suits stick pack and flow wrapped applications.
Press Release Summary: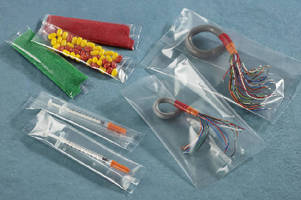 Based on ClearFoil® barrier-coated polyester coupled with aggressive sealant, Overture® One Lamination is suitable for granular, powdered, liquid, and solid applications that benefit from clarity and absence of foil. Oxygen barrier levels are available as low as 0.0008 cc/100 in.²/24 hr and moisture barrier properties are available down to 0.0008 g/100 in.²/24 hr. With transparent film, brand owners can use product texture and color to optimize shelf appeal.
---
Original Press Release:

Rollprint's New Overture® One Film Line Offers Stick Packs/Flow Wraps Barrier, Transparency, Processing Improvements



Addison, Ill. - Rollprint Packaging Products, Inc. is introducing what is believed to be the first transparent, non-aluminum foil, barrier film line for stick pack and flow wrapped applications.

The new Overture® One lamination is based on Rollprint's proprietary ClearFoil® barrier-coated polyester coupled with an aggressive sealant. The structure enables high speed sealing for added functionality.

Overture® One is suitable for a wide variety of granular, powdered, liquid, solid, etc. applications which can benefit from both clarity and the absence of foil. This encompasses a broad range of food, beverage, pharmaceutical and chemical products. Stick pack examples include powdered drinks, liquid pharmaceuticals, pesticides, household cleaners, etc. Flow wrapped products can range from syringes to IV bag overwraps. Also ideal are industrial parts and electronic components.

"Our research told us that there was a need for a structure that would provide the barrier properties required without the use of aluminum foil. The reasons varied from wanting portions of the product to be visible to consumers to overcoming metal detection interference," explained Dwane Hahn, vice president of sales and marketing, Rollprint.

The end result is a proprietary structure that can achieve comparable performance to foil-based laminations at two-thirds of the thickness, creating an opportunity for cost-savings. Oxygen barrier levels are available as low as 0.0008 cc/100in2/24 hrs. and moisture barrier properties are available down to 0.0008 g/100 in 2/24 hrs.

Further, its transparent attributes enable brand owners to use product texture and color to enhance shelf appeal. The entire structure can be kept transparent or limited to "windows" to display contents. Consumers can readily see contents, so guesswork is eliminated.

"The Overture® One lamination enables those products traditionally packaged via form-fill-seal to be considered for more cost-effective flow wrapping. The technology has improved to the point that flow wrappers offer excellent hermetic seals, making this approach suitable for more stringent pharma and medical device applications," Hahn said.

About Rollprint Packaging Products

With manufacturing facilities near Chicago, IL, Rollprint Packaging Products, Inc. is a worldwide supplier of packaging materials for the healthcare and food industries. The company offers a complete range of flexible, heat-sealable materials incorporating film, ClearFoil®, foil, Tyvek® and paper. Structures can be designed to accommodate any sterilization method. Available in rollstock, pouches and die-cut lids, Rollprint's materials can meet the needs of most peelable, chemical resistant and barrier applications.

The company is a founder of Alliantz Flexible Packaging Pte. Ltd., a joint venture between itself and Acme Packaging Co. (Pte) Ltd., Singapore. Headquartered in Singapore, Alliantz has been formed to serve the flexible packaging supply needs of Southeast Asia and China.

Rollprint is respected throughout the packaging industry for its heat-sealable, peelable rollstock and pouch technology, as well as its ClearFoil® ultra-high barrier transparent laminates, Allegro® peelable sealants and ClearForm® forming webs. Rollprint has supplied flexible packaging materials into healthcare, industrial and food end-use applications for more than 50 years. Additional information can be obtained at www.rollprint.com.

Please forward sales inquiries to:

Dwane Hahn

Rollprint Packaging Products, Inc.

320 S. Stewart Ave.

Addison, IL 60101

Phone: (512) 869-6620

Email: dhahn@rollprint.com

More from Material Handling & Storage