Barrier Door System protects personnel from machinery.
Press Release Summary: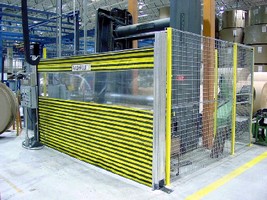 Designed for pulp/paper, welding, and robotic-operated manufacturing industries, Flash-Fold recesses into sub-grade pit for forklift and crane loading access. Safety interlock switch automatically shuts down or idles potentially dangerous cutting, forming, stamping, or welding application when breached by unauthorized personnel or impacted by machinery or flying debris. Offered in sizes from 6-18 ft wide, door protects areas up to 12 ft high and cycles at 36 ips.
---
Original Press Release:

Paper/Pulp, Welding, Robotic Manufacturing Industry's First Machinery Barrier Door System Introduced by Frommelt



Frommelt® Safety Products-division of Rite-Hite Doors, Milwaukee, Wis., has introduced the Flash-Fold(TM), the manufacturing industry's first safety barrier door system that protects unauthorized personnel from machinery operations, but also recesses into a sub-grade pit for both forklift and crane loading access.

Designed for pulp/paper, welding and robotic-operated manufacturing and other industries, the Flash-Fold's totally compatible operating system is interface-able with most machinery integration. A safety interlock switch automatically shuts down or idles a potentially dangerous cutting, forming, stamping, or welding application when breached by unauthorized personnel or impacted by machinery or flying debris. This feature saves up to 25 feet of buffering floor space normally required by photo eye/light guard barrier systems.

Loading or unloading the machinery protected by the Flash-Fold is expedited because there is no obstructive header or threshold. Additionally, the Flash-Fold's NFPA-701 rated, high-speed fabric door's cycling speed is 36-inches/second. It comes in standard sizes ranging from 6 to 18 feet wide and can protect areas up to 12 feet high. Custom widths and heights are available.

When combined with Frommelt's Robo-Guard(TM) eight-gauge steel mesh perimeter fencing, the Flash-Fold also offers a comprehensive protective barrier against flying debris from cutting, forming, punching or welding applications.

The Flash-Fold can be installed by Rite-Hite Doors distributors or by the customer's in-house engineering department with the help of Frommelt's expert aftermarket service and support.

About Frommelt: Frommelt Safety Products is a leading manufacturer of industrial safety and machine guarding products with a commitment to excellence and innovation. For more information on Frommelt or its products, please contact 800-553-5560 or visit www.frommeltsafety.com.

Gerry Timms-President
Frommelt Safety-div. of Rite-Hite Doors
(414)-362-6379
gtimms@ritehite.com

More from HVAC