Barrier Creams protect hands from harmful chemicals.
Press Release Summary: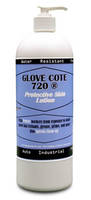 Silicon-free, greaseless DCP Barrier Skin Creams protect workers' hands and exposed skin against contact dermatitis and inflammation. Invisible, glove-like barrier cream is not slippery, greasy, or tacky. Cream, applied to clean skin, dries in seconds to guard against water- and solvent-based compounds that cause chapping, cracking, and bleeding. Soothing formula heals and protects while allowing skin to breathe. Cream is removed with soap and water.
---
Original Press Release:
Diversified Compounded Products Announces Extensive Line of Non-Toxic Superior Barrier Skin Creams for Manufacturing Industries
Plant managers and shop supervisors know workers who use their hands confront serious skin irritations every day when handling harsh solvents, resins, fiberglass, dyes and a long list of other harmful compounds. Now, with DCP's extensive line of silicon-free and greaseless barrier creams, workers can protect their hands and exposed skin against contact dermatitis and inflammation with an invisible glove-like barrier cream that is not slippery, greasy or tacky. A small amount of DCP(registered) Barrier Skin Cream applied to clean skin dries in seconds, forming the most effective guard against water- and solvent-based compounds that exposed working hands encounter. With DCP's emollient-rich barrier skin creams and lotions, hands are protected from chemical irritants that cause chapping, cracking and bleeding. Its exclusive soothing formula heals and protects while allowing skin to breathe. Easily removed with soap and water, DCP barrier skin creams and lotions allow grease, grime and other compounds that stain or discolor skin to wash away easily - allowing workers to leave dirt at the shop and go home clean. Diversified Compounded Products, the country's leading producer of biodegradable, petrolatum-free barrier skin creams, offers DCP(registered) Barrier Skin Cream, a solvent-resistant formula for use with solvent-based liquid and dry compounds. Glove Cote(registered) 720 Barrier Skin Lotion, a water-resistant formulation, is designed for protection against water-based chemicals, compounds and coolants. DermTech International, an independent testing lab based in San Diego, recently concluded tests on DCP(registered) and Glove Cote(registered) 720 barrier skins creams. Both DCP(registered) and Glove Cote(registered) 720 were found to reduce irritation up to four times more than any other similar product tested. A second test revealed both DCP(registered) and Glove Cote(registered) 720 formed a more effective barrier against harsh agents than other barrier products on the market. According to the Bureau of Workers' Compensation, 40 percent of all work-related claims involve exposed skin. Of that figure, 95 percent involve contact dermatitis and 68 percent involve hands and upper extremities. And, a full 25 percent will miss ten to twelve working days a year. In fact, occupational dermatitis is the largest industrial disease in this country, costing industry more than $200,000,000 annually. Protecting hands and exposed skin with DCP reduces claims and downtime, thereby vastly increasing productivity. DCP's family of products contains no grease or petrolatum making it easy to handle tools and equipment. Additionally, because DCP's barrier skin creams contain no silicone, which can contaminate surfaces, any item can be properly primed and painted. DCP's products, available in a number of convenient sizes, are ideal for shop workers and mechanics handling any number of oils, adhesives, carbons, chemicals, degreasers, inks, plastic monomers, solvents, thinners, waxes and fuels. The list goes on. These distinctive and superior barrier products benefit any individual who suffers from allergic dermatological skin reactions to industrial, environmental, home-based or zoological compounds. A Web site with ordering information, case studies, applications and additional DCP products can be found at www.diversifiedcompoundedproducts.com. For more information about Diversified Compounded Products, please contact: Steve Seltzer Diversified Compounded Products 811 Ridgeway Avenue, Cincinnati, OH 45229 Phone (513) 281-5959, 888-210-6266 (toll free), Fax (513) 936-6555 E-mail: sseltzer@rsdistributorsinc.comWorld Wide Web: www.diversifiedcompoundedproducts.com
More from Construction Equipment and Supplies