Barrel Stack Designs eliminate all tapered NPT threads.
Press Release Summary: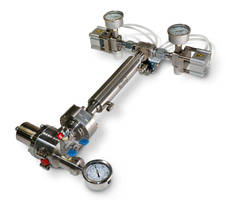 Designed for Graco F-5 and F4-55 two-component LSR equipment, Barrel Stack Designs are available in multi-pass that has 30 elements and single pass having 12 elements. Stacks use plastic molded mixers that do away with side-walling problems, installation damages and easier to clean. Stacks are available in 1 in.and 2.5 in. diameter filter option.
---
Original Press Release:
Graco AFD Announces New Barrel Stack Designs for LSR Equipment
Spend more time processing and less time cleaning stack
Graco Advanced Fluid Dispense (AFD), a world leader in fluid handling products and systems, announces it has launched brand new barrel stack designs for Graco F-5 and F4-55 two-component liquid silicone rubber (LSR) injection molding meter, mix and dispense equipment. The updated barrel stacks are available in both multi-pass and single pass designs. The new stacks are easy to clean and assemble and have no tapered national pipe thread (NPT) threads. End users can save up to 50 percent of cleaning time over older models – and spend more time producing parts. Enhancements have also been made to the regulator and mixer.
The new barrel stacks use plastic molded mixers, which stack upon each other. These mixers prevent the side-walling problem that may occur with older stainless steel mixer designs caused by repeated removal and installation. The plastic mixer also does not suffer from installation damage due to tight tolerance between the hosing and mixer. End users can now choose to clean the plastic mixer or dispose of it.
Greater clearance makes the new barrel stack easier to clean by reducing thread galling. The design also makes it far easier to reach components to clean them. The new barrel stacks completely eliminate all tapered NPT threads, from the top of the assembly all the way through the filter and into the regulator. With all straight threads, the design keeps material out of threaded areas, reducing stress on threads as they come apart – and making them easier to put together again.
The barrel stacks now come with two filter options. A 1-inch diameter filter comes standard, integrated in the stack assembly. Also available is a 2.5-inch filter option.
Enhancements have also been made to the regulator. It now features an easy to clean design with far fewer bolts, resulting in cost savings with no sacrifice in performance. Flow through passages on the new regulator manifold are 225 percent larger, reducing pressure drop through the barrel stack.
The new multi-pass mixer can now run as many as 30 mix elements, compared to older models that ran only up to 24. End users can configure the equipment to run as few mixers as required – 8, 20, or 30. The single pass model has 12 elements, which can now be configured so users need not use more mixers than required. The high level of configuration saves on material costs – use only what you need and keep the rest on the shelf for the next batch of material.
For more information visit, www.graco.com/lsr
ABOUT GRACO
Graco Inc. supplies technology and expertise for the management of fluids and coatings in both industrial and commercial applications. It designs, manufactures and markets systems and equipment to move, measure, control, dispense, and spray fluid and powder materials. A recognized leader in its specialties, Minneapolis-based Graco serves customers around the world in the manufacturing, processing, construction, and maintenance industries. For additional information about Graco Inc., visit www.graco.com.
FOR FURTHER INFORMATION:
GRACO INC.
P.O. Box 1441
Minneapolis, MN 55440
617-367-0100, ext. 148
More from Electrical Equipment & Systems