Welding Rods, Wire and Electrodes
Bare Wires exhibit corrosion resistance.
Press Release Summary: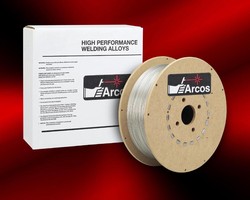 Designed for welding nickel-copper alloys (ASTM B127, B163, B164, and B165), Arcos 816 (ERNiCu-7) electrode can be used for welding in salt, seawater, and reducing acids environments. Dissimilar welding applications include joining nickel-copper and copper-nickel alloys to Nickel 200. Developed for GTAW/GMAW overlay of nickel-chromium alloy onto carbon and stainless steel and for cast repair, Arcos 72 (ERNiCr-4) offers resistance to high temperature and fuel-ash corrosion.
---
Original Press Release:

Arcos Bare Wires Designed for Unique Corrosion-Resistance Applications



Date: May 28, 2008

Mount Carmel, PA -- Arcos Industries, LLC has introduced two bare wires, which deliver superior corrosion resistance for specific welding applications.

Arcos 816 (ERNiCu-7) is an electrode designed for welding nickel-copper alloys (ASTM B127, B163, B164 and B165). Dissimilar welding applications include joining nickel-copper and copper-nickel alloys to Nickel 200. The wire's strength and corrosion- resistance make Arcos 816 a superb choice for welding in salt, seawater and reducing acids environments.

Arcos 72 (ERNiCr-4) was developed for GTAW/GMAW overlay of nickel-chromium alloy onto carbon and stainless steel and for cast repair. Due to its exceptional resistance to high temperature and fuel-ash corrosion, Arcos 72 is ideal for the overlaying of carbon steels to provide a nickel-chromium alloy corrosion surface in high temperature sulfur and vanadium atmospheres.

For more information on Arcos 816 and Arcos 72, contact Arcos at (800) 233-8460 or visit the website at www.arcos.us.

From: Arcos Industries, LLC

Phone: (800) 233-8460

Fax: (570) 339-5206

www.arcos.us

Contact: chenninger@arcos.us

More from Architectural & Civil Engineering Products