Barcode Scanners come in colors to optimize retail branding.
Press Release Summary: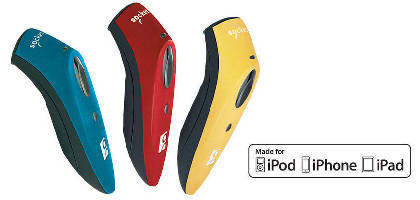 Available in red, yellow, and blue for Apple iPad®, iPad mini, iPhone®, and iPod touch®, Socket Bluetooth® Cordless Hand Scanners 7Ci enable businesses to optimize corporate branding in retail point-of-sale, field sales and service, and other customer-facing applications. Colors enable scanners to be found in store aisles or other busy work environments, and allow personalization of devices among users. Scanners also support Android, BlackBerry, and Windows devices.
---
Original Press Release:

Socket Mobile Releases Spring Color Collection of Apple® Certified Barcode Scanners



Eye-catching colors enhance retail branding in mobile sales and service applications



NEWARK, Calif.,-- Socket Mobile, Inc. (OTC: SCKT), an innovative provider of mobile productivity solutions, today announced the upcoming availability of a spring color collection of the Socket Bluetooth(®) Cordless Hand Scanner (CHS) 7Ci, a small and sleek wireless barcode scanner for the Apple iPad(®), iPad mini, iPhone(®) and iPod touch(®). The vibrant new barcode scanners -- available in red, yellow and blue -- enable businesses to enhance corporate branding in retail point-of-sale (POS), field sales and service, and other customer-facing applications.



Chosen by global POS leaders and independent developers alike for their mobile POS solutions, the Socket CHS 7Ci is Socket Mobile's most popular and lowest-cost barcode scanner. Besides enhancing retail branding, the new colors make the scanners easy to find in store aisles or other busy work environments, enable developers to bundle a cohesive hardware and software solution, and allow personalization of devices among users. The scanners also support Android, BlackBerry and Windows devices.



"The BikePartners.net bike shop purchased the Socket CHS 7Ci at the recommendation of Registroid, the provider of our Android-based POS system," said Geoffrey Smith, owner of the full-service bicycle shop in Santa Rosa, California. "When presented with different barcode scanner colors, we chose yellow because it makes the scanner easier to find among all the bicycle parts, equipment and accessories in our store, plus yellow has special meaning in the sport of cycling where competitions like the Tour de France award champions a yellow jersey."



"As retailers transition from traditional cash registers to mobile POS systems, there is increasing demand for smaller, more stylish barcode scanners for employees to use while interacting with customers on the sales floor," said Vince Coli, product manager at Socket Mobile. "Retailers invest a lot into creating attractive shopping environments that complement their corporate identity, and Socket Mobile's colorful new barcode scanners enable businesses to not only improve customer service and store operations, but also reinforce the hip, modern in-store experience that today's retailers strive for."



The Socket CHS 7Ci is currently available in yellow and gray from Socket Mobile's worldwide distribution channels and online at: http://www.socketstore.com . Red and blue models of the scanner will be available in late May. Customized colors and private label scanners are offered with a minimum order quantity, and developers can obtain a Software Development Kit (SDK) at: http://developer.socketmobile.com/



About Socket Mobile

Founded in 1992, Socket Mobile is a leading innovator of mobile devices and productivity tools for retail POS, field service, healthcare, and other mobile markets. Our portfolio includes wireless handheld and hands-free barcode scanners for tablets and smartphones; durable handheld computers and accessories; and OEM solutions for the mobile device market. Socket Mobile is headquartered in Newark, Calif. and can be reached at +1-510-933-3000 or www.socketmobile.com. Follow Socket Mobile on Facebook and Twitter @socketmobile and subscribe to sockettalk.socketmobile.com, the company's official blog.



© 2013, Socket Mobile, Inc. All rights reserved. 



Socket and the Socket logo are registered trademarks or trademarks of Socket Mobile, Inc. Apple, iPad, iPhone and iPod touch are trademarks of Apple, Inc., registered in the U.S. and other countries. All other trademarks and trade names contained herein may be those of their respective owners.



Socket Media Contact: 

Michelle Yakura

Marcom & Social Media Manager 

510-933-3061 

michelle@socketmobile.com



Web Site: http://www.socketmobile.com

More from Material Processing