Barclay Brand Ferdon Teams Up with V. Mariotti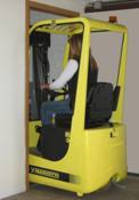 Barclay Brand Ferdon, located in South Plainfield, NJ announced that it is now the authorized distributor for Mariotti forklifts in counties of New Jersey & New York.

With widths as narrow as 31 inches and heights as low as 75 inches, the Mariotti brand of forklifts includes the world's smallest operator-on-board forklift truck. The Mycros and ME series of Mariotti lift trucks are specifically designed to lift up to 2,600 pounds in limited space applications, including the ability to drive through a standard door opening and maneuver elevators.

Vasco Mariotti founded the company in 1920; their home offices are located in Torino, Italy and offer worldwide distribution. V. Mariotti is one of the most recognized manufacturers of material handling equipment in Europe. After two years of negotiations, a joint venture with V. Mariotti and U. S. partners was formed in 2002 to increase distribution in the U. S. market. The U. S. now accounts for more than 15% of Mariottis worldwide distribution.

Barclay Brand Ferdon has been a Yale Forklift Dealer since 1948 providing short term rental, service, replacement parts and used equipment to business customers throughout New Jersey & New York. "This new niche forklift by Mariotti will allow us to provide one more materials handling solution to our customer base" says Bernie Saxon, Barclay Brand Ferdon's VP & COO.

More from Test & Measurement