Barbed Connector is made of FDA-approved polypropylene.
Press Release Summary: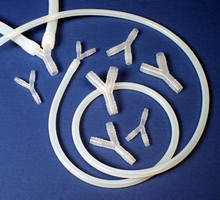 Available in ¼, 3/8, and ½ in. sizes, Y style Thermobarb FDA PP barbed fitting works with soft, flexible tubing such as silicone or thermoplastic rubber and are suitable for single-use tubing assemblies. Connector features tapered lead barb for tight fit and reduced leakage, and smooth surface allows for unrestricted, uniform flow. It has operating temperature range of 10-220°F, conforms to USP Class VI standards, and is FDA 21 CFR 177.1520 and RoHS compliant.
---
Original Press Release:

Improved Barbed Fitting Design Means a Better Fit & Reduced Leakage



Made in the U.S. from FDA-Approved Polypropylene

Southampton, PA - A new style of barbed connector is immediately available from tubing-and-hose manufacturer NewAge Industries, Inc. Precision molded with an improved design, these versatile fittings are ideal for the laboratory, food and beverage, pharmaceutical and biopharmaceutical, bioprocess, chemical, purified water, medical component, environmental, and appliance industries, as well as other applications that call for a lightweight, inert fitting.

An addition to the company's line of multi-barbed thermoplastic fittings, the new style, called Thermobarb FDA PP, offers several benefits over look-alike connectors. These advantages include:

o The elimination of mold parting lines and flashing (waste particles that can dislodge during use and cause contamination)
o A longer, more tapered lead barb for easier installation, a tighter fit, and reduced leakage
o Smooth surfaces throughout for unrestricted, uniform flow
o Sterilization by gamma radiation or autoclave
o Free of animal-derived ingredients
o A temperature range of 10°F to 220°F (-12°C to 104°C)

Thermobarb FDA PP fittings meet important industry criteria. They conform to USP Class VI standards and are compliant with FDA 21 CFR 177.1520 for food contact surfaces and with RoHS (Restriction of Hazardous Substances). They're manufactured in the U.S. at an ISO 9002:2000 certified facility.

Thermobarb FDA PP fittings work well with soft, flexible tubing such as silicone or thermoplastic rubber and are ideal connectors for single-use/disposable tubing assemblies in, for example, sampling and fill applications. Available in three popular sizes-¼", 3/8", and ½"-in the Y style, Thermobarb FDA PP connectors are just the first in this new line. Other styles, such as T's and straight connectors, are in the finishing stages of development.

For more information on new Thermobarb® FDA PP barbed fittings, contact the Plastic Tubing, Hose, and Fitting Specialists® at
NewAge® Industries, Inc.,
145 James Way, Southampton, PA 18966;
phone 800-50-NEWAGE (800-506-3924) or 215-526-2300;
fax 800-837-1856 or 215-526-2190;
e-mail: [email protected];
product-specific web site: www.newageindustries.com/tbrb-fda-pp-y.asp

About NewAge Industries
In business since 1954, NewAge Industries is a manufacturer and fabricator
of thermoplastic and thermoset tubing and hose, and a private-brand master distributor of fittings and clamps. The company offers one of the broadest product lines of tubing, hose, and fittings in the U.S. and, with its introduction of the AdvantaPure sanitary product line, is well suited to meet the demands of pharmaceutical and high purity applications. NewAge Industries prides itself on same-day shipment of 98% of orders for its core product lines.