Bar Pull Systems for Lathes come in inch and metric sizes.
Press Release Summary: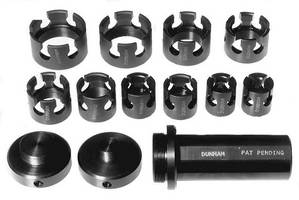 Bar Stock Pulling Bar Pull Systems include Inch sizes for use on CNC Lathes. Dunham Bar Pull metric sizes include Dunham 25 mm dia Bar Pull Shank that mounts into 25 mm Boring Tool Holder. Metric Dunham Bar Pull Grippers include grippers for bar stock sizes from 3-34 mm dia that will mount directly to Dunham Bar Pull Adapters or Bar Pull Shanks. Dunham Bar Pull Gripper inch sizes now include 1/16 in. increments from 1/8-2 in. dia as well as 1/8 in. increments from 2 1/8-3 in. dia.
---
Original Press Release:

Dunham Bar Pull Systems Inch and Metric Sizes Select New Sizes 2" to 3"



Dunham Tool has expanded its line of Bar Stock Pulling Bar Pull Systems to include select additional Inch sizes for use on CNC Lathes.

Bar Pull Gripper, Adapter and Shank
The Dunham Bar Pull metric sizes include a Dunham 25mm diameter Bar Pull Shank that mounts into a standard 25mm Boring Tool Holder. The new metric Dunham Bar Pull Grippers now include grippers for bar stock sizes ranging from 3mm to 34mm diameters. These grippers will mount directly to the Dunham Bar Pull Adapters or Bar Pull Shanks.

The Dunham Bar Pull Gripper inch sizes now include 1/16 inch increments from 1/8" to 2" diameters, and now 1/8" increments from 2 1/8" to 3" diameters. Therefore the complete range of inch Dunham Bar Pull Grippers now ranges from 3/16" to 3" diameters. Dunham Bar Pull System components are available individually or in Kits, and are available from stock.

Dunham Bar Pull Kit(Dunham Shank Additional)
The lightweight and self-activating Dunham Bar Pull System has no moving parts, mounts in 60 seconds (with Dunham Gripper changeover in about 30 seconds), and does not interfere with other tools on the machine Turret or Gang Tool Table. Requiring only 1/4" of bar stock engagement, the Dunham Bar Pull System pull positions the bar stock within 0.001".

Dunham Bar Pull Systems are one of a wide range of Dunham workholding and spindle devices, 50M Spindle Headstocks, Cartridge Spindles, Collet Chucks, Collet and Chuck Actuators and Cylinders, Expanding Collets and Expanding Mandrels, as well as 5C, 16C, and 3J 'Plug and Play' Collet Chucking Systems for all Lathes, Rotary Tables, Grinding Machines and Special Machines, Thru Hole and No Thru Hole Kits available:

Dunham Collet Chucks:
Drawtube Style:
5C, 16C, 3J:
Other Sizes Available

The Dunham Bar Pull System is one of a wide range of Dunham Workholding and Spindle solutions:

50M Precision Spindles:
Collet Chucks:
Collet and Chuck Actuators/Cylinders: machineable
Expanding Collets and Expanding Mandrels:

Bar Puller Systems

5C, 16C, and 3J
'Plug and Play'
Collet Chucking Systems for all Lathes, Rotary Tables, Grinding Machines and Special Machines:
Thru Hole and
No Thru Hole Kits available:

Dunham Expanding Collet

Dunham Model 50M Spindle, Pulley and Air Collet Closer
Please call or email us for any additional technical information or applications assistance that you may need. You will receive immediate and complete assistance.

All Dunham products are designed and manufactured in the USA.

We appreciate your Comments or Feedback

Would you like to order online?
Dunham Secure Online Ordering

Dunham Tool Company
8 Parklawn Drive
Bethel, CT 06801 USA
203-739-0415 (Phone); 203-739-0461 (Fax)
www.dunhamtool.com

dunham@dunhamtool.com

More from Electrical Equipment & Systems