Bar Feeder handles up to 3 in. dia and 12 ft long material.
Press Release Summary: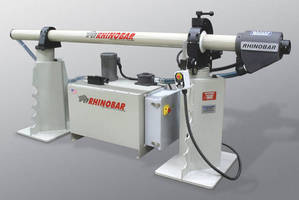 Accommodating metalworking requirements for unattended machining, hydrodynamic Rhinobar(TM) expands capabilities of lathes with integral spindle motors unable to support longer lengths of bar stock from magazine loader. Stable, heavy-duty unit has single-tube, muzzle-loading design that supports and feeds round, hexagonal, square, and asymmetric bar stock through lathe spindle. Pressurized oil bath surrounds bar stock, automatically centering and stabilizing bar as rotational speed increases.
---
Original Press Release:

Upsized Rhinobar® Bar Feeder Allows Unattended Machining of up to 3-inch Diameter and 12-Foot Bar Lengths



Introduced for IMTS, upgraded hydrodynamic Rhinobar(TM) increases efficiency, quality and labor utilization for turning operations with larger diameter bar stock

Lexington, KY - Lexair responds to the metalworking industry's need for unattended machining operations with longer, larger-diameter bar stock by upsizing the Rhinobar® bar feeder to handle material with a maximum three inch (76 mm) diameter and 12 foot (3.6 m) length. Introduced for IMTS and demonstrated at the show, the larger-capacity U.S. made Rhinobar expands the capabilities of newer lathes with integral spindle motors that are unable to support longer lengths of stock from a magazine loader.

The Rhinobar is an exceptionally stable, heavy-duty, hydrodynamic bar feeder that supports and feeds bar stock through a lathe spindle for production machining operations. It is ideal for use with CNC lathes manufacturing automotive components, hydraulic cylinders, medical devices, firearm parts, motor shafts and a host of similar parts.

The Rhinobar's single-tube, muzzle-loading design handles round, hexagonal, square, and asymmetric bar stock from 0.125 (3.2 mm) to three inches (76 mm) diameter. The Rhinobar's outer barrel is thick-walled, steel DOM tubing with a precision-honed bore. It is held in place at the front with a convenient single clamp that minimizes barrel vibration and controls Z-axis motion and swing out for feed-tube changes or reloading.

The hydrodynamic design utilizes a pressurized oil bath that surrounds the bar stock to automatically center and stabilize it as rotational speed increases, facilitating shorter cycle times with high-rpm cutting for superior workpiece finishes. The hydrodynamic oil cushion eliminates bar whip and also dampens vibration and noise. A single valve designed and manufactured by Lexair controls oil flow and pressure. Other vibration damping features on the Rhinobar include a support bushing in the oil recuperator, which works in conjunction with a dynamic bearing-mounted pusher cone that maintains contact with the bar chamfer to allow higher turning speeds.

A handheld pendant allows the operator to control the bar feeder remotely, while an end-of-bar signal and automatic retraction of the pusher ensure high efficiency with minimal labor.

The Rhinobar comes with three feed tube diameters of the buyer's selection. Standard tubes from 0.025 to 1.75 inches diameter are available in increments of 0.125 inch (3.2 mm); from 1.75 (44 mm) to 3 inches (76 mm), tubes are available in increments of 0.25 inch (6.35 mm). Each feed tube is equipped with an integral pusher powered by oil pressure that engages the stock to advance it into the lathe spindle. Custom feed tube sizes are also available.

For details, see lexairinc.com or call 859-255-5001.

Contacts:
Steve Breslin
National Sales Manager
Lexair Inc.
859-255-5001
sbreslin@lexairinc.com

Ray Kemble
Kemble & Rude Communications
513-871-4042
rkemble@kemblerude.com