Bar Feeder delivers multi-diameter stock versatility.
Press Release Summary: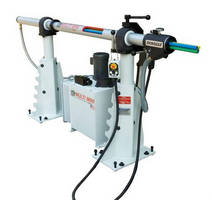 Multi Mini Rhinobar® facilitates multi-diameter bar stock processing via feedtube cartridge that automatically centers and feeds 3 sizes of small-diameter bar stock to Swiss-style CNC screw machines and sliding-head lathes. Cartridges sizes are 0.25 x 0.375 x 0.5 in., 0.25 x 0.5 x 0.75 in., and 0.375 x 0.5 x 0.635 in., and each 3-tube cartridge is enclosed in aluminum barrel. With respective overall lengths of 11 and 17 ft, two models are available for processing either 6 or 12 ft bar stock.
---
Original Press Release:

New Multi Mini Rhinobar Bar Feeder Adds Multi-Diameter Stock Versatility with 3-Bar Cartridge



Lexair bar feeder makes multiple-stock-diameter indexing simple, combining three sizes of feedtube in a standard aluminum barrel. Available in three size ranges for increased productivity on Swiss-style CNC screw machines and small, fixed- or sliding-head lathes.



Lexington, KY — Lexair's new Multi Mini Rhinobar® bar feeder makes multi-diameter bar stock processing faster and easier with a feedtube cartridge that automatically centers and feeds three sizes of small-diameter bar stock to Swiss-style CNC screw machines and sliding-head lathes. Cartridges are available in three size ranges: 0.25 in/0.375 in/0.5 in, 0.25 in/0.5 in/0.75 in and 0.375 in/0.5 in/0.635 in, and each three-tube cartridge is enclosed in a standard aluminum barrel. The Multi Mini helps achieve maximum throughput for high-production runs of automotive components, medical devices, motor shafts and other small-diameter parts. Two models are available for processing either six- or 12-foot bar stock.



The bar feeder's ergonomic design features an upgraded safety interlock system, and includes a front swing-out mechanism for easy reloading and sub 3-minute feed tube changes. Lexair's single-valve design controls oil flow and pressure for increased bar control, accuracy and vibration-free operation. A completely enclosed fluid recuperator keeps oil off the floor and contaminants out of the hydraulic system.



The outer barrel is a precision-extruded aluminum tube, held in place with a single clamp to further minimize barrel vibration and control Z-axis motion. A removable pendant allows the operator to control the bar feeder remotely, while a positive pusher retention system ensures high efficiency operation with minimal labor.



With an overall length of 11 feet (3.35 m) for the 6-foot bar model and 17 feet (5.18 m) for the 12-foot bar model, the Multi Mini Rhinobar's compact size makes it suitable for small or large shops. The U.S.-built bar feeder is available for immediate delivery. For details, visit lexairinc.com or call 859-255-5001.



Contacts:

National Sales Manager

Lexair Inc.

859.255.5001

sbreslin@lexairinc.com



Jeff Drum

Kemble & Drum Communications

513-871-4042

jdrum@kembledrum.com