Bar Code Reader scans 1D and 2D bar codes.
Press Release Summary: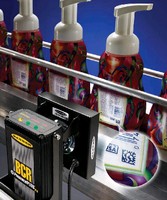 Available with in-line or right-angle lens, self-contained PresencePLUS® P4 BCR Vision Sensor reads Data Matrix ECC200 and PDF 417, as well as linear codes such as Code 39, Code 128, Codabar, Interleaved 2 of 5, EAN-8, and EAN-13. Remote TEACH allows sensor to learn features to inspect for, without connecting to PC or shutting down production line. Operating on 10-30 Vdc, system interfaces to machinery or factory networks via 10/100 Ethernet connection or RS-232 serial I/O.
---
Original Press Release:


Low-Cost Bar Code Reader for Advanced 2D and 1D Bar Codes




Minneapolis, MN-September 28, 2005-The new PresencePLUS® P4 BCR vision sensor from Banner Engineering Corp. reads advanced 2D and 1D bar codes including Data Matrix ECC200 and PDF 417, as well as linear codes such as Code 39, Code 128, Codabar, Interleaved 2 of 5, EAN-8 and EAN-13 (supports UPC-A). Priced at 50 percent less than comparable vision-based bar code sensing solutions, Banner's PresencePLUS P4 BCR bar code sensor includes a lens and lighting for only $1995.

"The P4 BCR delivers extraordinary performance at a price point so low it could be mistaken as one of the many single function or limited capability bar code sensors that are available in this same price range," said Dan Holste, Banner's director of Vision Products. "You just won't find any other bar code sensor with this level of functionality for under $2000."

Applications. The P4 BCR allows users to accurately read many different bar code types. Industry-standard bar code metrics and grading capabilities make the P4 BCR ideal for a wide range of applications that include the following:
o Error-proofing product codes stamped on parts in a precision metal stamping application
o Verifying content codes for a pharmaceutical packaging application
o Validating recipient information in a credit card remittance operation
o Providing traceability in an automobile assembly operation
o Equipment and process protection (non-personnel safety)
o Supplemental safeguarding

Several features of the P4 BCR make it particularly easy to install and use:
o Remote TEACH allows the sensor to learn new features to inspect for, without connecting to a PC or shutting down the production line.
o A built-in live video output allows users to view the sensor's inspections in real time and to view failed inspection images without a PC.
o The P4 BCR vision sensor interfaces to machinery or factory networks through a built-in 10/100 Ethernet connection or RS-232 serial input/outputs.

Specifications. The compact, self-contained P4 BCR is available with two lens positions: in-line (on the end of the housing) and right-angle (on the side of the housing). Both versions measure only 66.8 mm wide; the in-line model is 136.1 mm long and the right-angle model is just 124.5 mm long. The included mounting brackets make it easy to attach the P4 BCR sensor to machines or conveyors. The unit's three bi-color LED indicators clearly show unit status during setup and operation. It operates on 10 to 30 V dc. Banner also offers hundreds of specialized lighting and lensing options to solve even the most challenging applications.

A family of easy-to-use vision sensors. Banner's PresencePLUS Pro vision sensor defined low-cost vision sensing. The PresencePLUS P4 GEO, P4 GEO 1.3, P4 EDGE, P4 EDGE 1.3 and P4 BCR continue this trend of making it easy and affordable to adopt vision sensing capabilities at multiple points in user applications. One reason Banner's PresencePLUS vision sensor products are so successful is because they share a user interface that many consider the easiest to use on the market today. It is available in nine languages: English, Simplified Chinese, Traditional Chinese, French, German, Italian, Japanese, Portuguese and Spanish. With the PresencePLUS's intuitive interface, even operators with only basic computer skills can easily set up an inspection.

About Banner. Banner Engineering is the world's leading manufacturer of electronic machine safeguarding systems, vision sensors, photoelectric and ultrasonic sensors, fiber optic assemblies, and precision measurement systems.

For further information, contact Banner Engineering Corp., 9714 Tenth Avenue North, Minneapolis, MN 55441. PH: 888-373-6767 (Toll-free North America), or 001-763-544-3164 (International). FAX: 763-544-3213. Email: sensors@bannerengineering.com. E-commerce: buybanneronline.com Web: www.bannerengineering.com

Direct link to product info at: http://bannerengineering.com/prP4bcr


More from Mechanical Components and Assemblies