Bar Code Marking System stores more data.
Press Release Summary: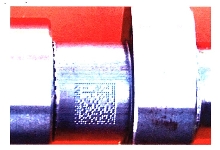 Data Matrix marking system produces 2D bar code that can be read in any orientation, stores 50 times data as standard bar codes, and uses 1/4 of space required for bar codes. System uses double-stylus head, where one head is used for data-matrix encryption mark and other marks standard characters. Both heads run side-by-side, optimizing speed. System reads mechanical and laser markings on metal and plastic.
---
Original Press Release:
Borries Data Matrix System Improves On Bar Code Marking

Ann Arbor, MI -- A newly developed Data Matrix marking system, which produces a 2D bar code, is capable of marking information which can be read in any orientation and stores 50 times the data commonly available in standard bar codes. What's more, the marking utilizes just one-fourth the space required for bar codes. Developed by Borries Marking Systems, the Data Matrix technology reads mechanical or laser markings on metal or plastic for reliable error correction.

In addition, Borries has developed an optimized marking head for rendering complex Data Matrix marks. The head uses ultra fast components for marking speed. Further, a double-stylus head system has been created by Borries for use in alpha-numeric/Data Matrix marking, wherein one head is used for the D.M. encryption mark and the other is employed for marking standard characters. The device's controller runs both heads side-by-side, optimizing speed.

Control hardware for the dual-head mechanical marker consists of a double processor system, the two processors being connected via a serial interface. Real-time software used for stylus and scriber marking is equipped with a special add-on for matrix coding.

The overall size of the data matrix depends on the data content, which includes the number of characters to be encoded and the possible number of different characters. To emboss Data Matrix codes, the Borries equipment uses the same coordinate units as are used for stylus or scriber marking. A high level of consistency and reproducibility is achieved.

The Data Matrix technology is especially effective in reading laser marked matrices on metal and plastic pieces. The system's camera rapidly scans and verifies the metal part based on data contained in the matrix's coded marking.

For more information, contact Nancy Rector, Borries Marking Systems, 3744 Plaza Drive, Suite IC, Ann Arbor, MI 48108. Telephone 734 761-9549; fax 734 761-1171; E-mail: borriesusa@earthlink.net.
More from Packaging Products & Equipment