Bandsaws cut large diameter tubing.
Press Release Summary: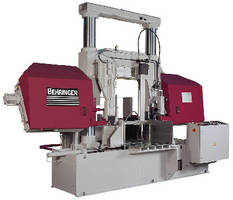 In addition to cutting solid bars and structurals up to 31.5 in., HBP-800AXL Automatic and HBP-800XL Semi-Automatic Bandsaws cut tubes up to 39 in. in diameter. Both feature cast iron frame construction and twin column parallel down feed design for proper saw blade tensioning. Controlled by PLC, saws are equipped with 14.7 hp main drive motor with variable speed range of 55-393 sfm, hydraulic and hardened clamping jaws; and heavy-duty roller conveyor.
---
Original Press Release:

New Bandsaws Come in Extra Large to Cut Large Diameter Tubing Down to Size



Morgantown, PA - A new line of bandsaws engineered to accommodate and cut large diameter tubing quickly and efficiently is available from Behringer Saws, Inc. HBP-800AXL Automatic and HBP-800XL Semi-Automatic Series Bandsaws allow companies to save on upfront capital expenditures and avoid buying more expensive bandsaws for everyday cutting while expanding their capability to specifically cut large tubes when needed.

The HBP-800AXL Automatic and HBP-800XL Semi-Automatic Bandsaws deliver all the performance and capabilities of "standard" HBP-800 Series Bandsaws cutting solid bars and structurals up to 31.5". In addition, these new bandsaws allow for the cutting of tubes up to 39" in diameter. Companies can now purchase a lower cost bandsaw to handle day-to-day production cutting needs at the standard size range while utilizing this additional feature to accept new projects requiring the cutting of large diameter tubing.

All HBP-800 Bandsaws are built with strong cast iron frame construction and a twin column parallel down feed design for proper saw blade tensioning to deliver quick, efficient and forceful low vibration cutting for smooth cuts. These bandsaws also come with a heavy-duty roller conveyor for quick and efficient handling of heavy materials pre- and post-cut.

HBP-800 Bandsaws feature a frequency controlled 14.7 horsepower main drive motor with a variable speed range of between 55-393 Surface Feet Per Minute (SFM) which is easily selected at the operator's control panel. Hydraulic and hardened clamping jaws on the bandsaw ensures steady and precise cuts at all speeds.

This bandsaw is available in both automatic and semi-automatic versions and requires minimal operator intervention as it is controlled by a programmable logic controller (PLC). It features an easy-to-use operator's terminal with diagnostic display, data entry and program storage. The speed is easily set, controlled and monitored before and during the cutting process.

Behringer Saws, Inc. provides a full range of sawing and turnkey pre- and post-cut material handling productivity-enhancing products. Behringer supplies world-class quality automatic bandsaws to corporations, service centers, job shops and manufacturers throughout the world. The company also offers the Behringer Eisele brand of manual, semi-automatic and automatic miter circular cold saws, high performance circular cold saws utilizing bi-metal or carbide saw blades and CNC miter circular sawing systems. Also, the Vernet Behringer line of structural fabricating equipment includes high performance drilling, punching, shearing, notching and marking machines along with beam coping and drilling and sawing lines.

For more information on the HBP-800AXL and HBP-800XL Bandsaws, contact Behringer Saws, Inc., 721 Hemlock Road, Morgantown, PA 19543. Call toll-free at 888-234-7464 or visit Behringer's website at www.behringersaws.com

More from Machinery & Machining Tools