Bandsawing Machine cuts aluminium blocks horizontally.
Press Release Summary: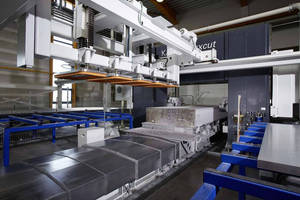 Used for cutting cast aluminium blocks into plate, KASTOmaxcut A 6 x 16 ALU deploys horizontal blade that has been turned through 90° to allow successive slices to be taken off top of material. Machine can operate automatically for several days once set up, and changing aluminum blocks takes <3 min. Measuring 12 x 6.8 m, bandsaw supports use of bi-metal or tungsten carbide-tipped blades. Feed rate (0.5–500 mm/min) and band speed (300–3,000 m/min) are infinitely variable.
---
Original Press Release:

New Bandsaw Cuts Aluminium Blocks Horizontally



German sawing machine manufacturer, KASTO, has developed a new, horizontal bandsawing machine for cutting cast aluminium blocks into plate. Rather than sawing a billet vertically, which would leave the problem of how to handle and stack the plate after each cut, the machine deploys a horizontal blade that has been turned through 90 degrees to allow successive slices to be taken off the top of the material.



Called KASTOmaxcut A 6 x 16 ALU, the machine was developed for German firm, GLEICH Aluminiumwerke, Kaltenkirchen. Consistent, high-quality cuts are achieved combined with high sawing performance, easy operation and low idle times.



GLEICH produces low distortion, dimensionally stable, aluminum plates from 5 to 600 mm thick which are cut from blocks measuring up to 2000 x 4000 x 800 mm. The company and its 190 employees supply customers worldwide in the machinery manufacturing, aerospace, tool manufacturing, automotive, mould manufacturing and construction industries.



Andreas Sieg, chief of production at GLEICH Aluminiumwerke, said "KASTO's concept of the new KASTOmaxcut convinced us that it was the way to go. It has replaced two saws at our factory, increasing cutting capacity while maintaining consistently high quality."



The KASTO bandsaw measures 12 metres long by 6.8 metres wide. Changing the aluminum blocks takes less than three minutes, leading to short non-cutting times. Once set up, the machine can operate automatically for several days. It is one of the strongest bandsaws on the market and is designed to withstand the rigours of tough production conditions. Either bi-metal or tungsten carbide tipped blades may be used.



Compared with previous saws used at GLEICH, blade life has doubled on the KASTOmaxcut to 3,000 m2. Other strengths of the bandsaw are its ability to be interfaced with the customer's ERP-system and improved efficiency of chip evacuation compared with similar equipment.



The machine has an inclined saw head to shorten the length of material engaging the teeth when a new cycle begins. Feed rate is from 0.5 to 500 mm/min, while band speed is from 300 to 3,000 m/min, both ranges being infinitely variable. The saw blade is cooled by a minimum flow lubrication system with fill level control.



Cast aluminum blocks weighing about 15 tons are fed to the KASTOmaxcut automatically via an infeed roller conveyor and a lateral transfer unit. The position of the latter is monitored and if it is not correct, the automatic sequence stops. To maximise unmanned running, the blocks can be buffered in two park positions between the infeed conveyor and the material support table.



After a cut is completed, each individual plate is removed from the saw with a vacuum manipulator and placed onto a roller conveyor to be transported into store or directly to manufacturing. The plate transportation system is equipped with five rectangular suction units capable of carrying up to 3.5 tons. Heavier plate is handled manually by crane.



By using advanced design and manufacturing methods, KASTO has achieved quiet running and vibration-free sawing, leading to short processing times as well as extended blade life. Each of two vertical columns has two linear guide units with six play-free, adjustable guide elements, ensuring high rigidity, maximum damping and precision cutting.



The hydraulic system can be easily accessed from the outside, minimising maintenance times such as for checking the oil check and to change the filter.



The machine is supplied with KASTO's own saw control, TechnoControl, allowing automatic setting of the appropriate cutting parameters to suit material quality and the type of saw blade (bimetal or carbide). Up to 2,000 material data records can be saved, the memory being designed for entry of 1,000 combinations of plate thickness and number of pieces to be cut.



On behalf of:   

KASTO Ltd, Unit 5

Garamonde Drive

Wymbush, Milton Keynes, MK8 8DF

Tel: 01908 571590 

Fax: 01908 566106

E-mail: sales@kasto.uk.com

Web site: www.kasto.uk.com

Contact: 

Ernst Wagner

Managing Director



Issued by:   

THE RIGHT IMAGE Ltd

PO Box 42, Twickenham, TW1 1BQ

Tel: 020 8891 0603

E-mail: chris@therightimage.net

Web site: www.therightimage.net

Contact: Chris Wright.

More from Mechanical Components and Assemblies