Bandsaw promotes efficient, precision cutting of aluminum.
Press Release Summary: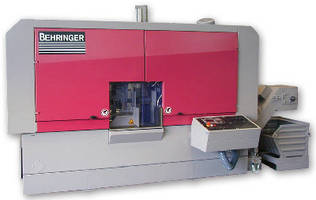 Utilizing bi-metal or carbide-tipped saw blades, HBM 540A/ALU Bandsaw cuts aluminum profiles and solids. Heavy-duty machine, constructed with cast iron bow frame which travels on 3 sets of vertical linear ways and guides for stability, can cut rounds up to 21.2 in. dia and rectangular shapes up to 24.8 x 21.2 in. It incorporates frequency-controlled, 29.5 hp main drive motor with 984-4,264 sfm range and double chip conveyor system for removal of chips spun off during cutting cycles.
---
Original Press Release:

High Performance Bandsaw Designed for Efficient and Economic Production Precision Cutting of Aluminum



Morgantown, PA (October 30, 2009) - A high performance bandsaw engineered for high-speed cutting of metals and short cycle times is available from Behringer Saws, Inc. Utilizing bi-metal or carbide-tipped saw blades, the HBM 540A/ALU Bandsaw is a heavy-duty, high production machine designed for the accurate and economic cutting of aluminum profiles and solids.

Constructed with a strong cast iron bow frame which travels on three sets of vertical linear ways and guides for stability and crisp, clean cuts, the HBM 540A/ALU Bandsaw can cut rounds up to 21.2" in diameter and rectangular shapes up to 24.8" x 21.2". With its strong, frequency controlled 29.5 horsepower high-speed main drive motor with a variable speed range between 984 to 4,264 surface feet per minute (SFM), this bandsaw is ideal for production cutting of aluminum.

Unlike other bandsaws not designed for this cutting application, the HBM 540A/ALU Bandsaw has a double chip conveyor system for fast, clean and efficient removal of a high volume of chips spun off during quick cutting cycles. The sawing cell in this bandsaw is completely enclosed to ensure operator safety and to keep chip and coolant inside the machine. Large doors enable easy access to the area for easy cleaning and maintenance.

This bandsaw requires minimal operator intervention as it is controlled by a programmable logic controller (PLC) and features an easy-to-use operator's terminal with diagnostic display, data entry and program storage. The speed is easily set, controlled and monitored before and during the cutting process.

To facilitate production volume, the HBM 540A/ALU Bandsaw comes with a durable and high quality electric ball screw to provide enhanced material positioning and improve accuracy during the cut and eliminate backlash following the cut. The feed gripper is designed to grip and hold material forcefully with variable hydraulic clamping pressure, allowing operators to "fine-tune" the proper grip on the material to be cut. This feature will eliminate damage to tubing or softer materials.

This piece of equipment has a feed of up to 19.6" with a single stroke and a multiple stroke maximum to 14.76' for longer materials. Its floating gripper feed unit ensures safe feeding of bars and extrusions. "Light barriers" signal out-of-material warnings when bar or material end is reached.

Behringer Saws, Inc. provides a full range of sawing and turnkey pre- and post-cut material handling productivity-enhancing products. Behringer supplies world-class quality automatic bandsaws to corporations, service centers, job shops and manufacturers throughout the world. The company also offers the Behringer Eisele brand of manual, semi-automatic and automatic miter circular cold saws, high performance circular cold saws utilizing bi-metal or carbide saw blades and CNC miter circular sawing systems. Also, the Vernet Behringer line of structural fabricating equipment includes high performance drilling, punching, shearing, notching and marking machines along with beam coping and drilling and sawing lines.

For more information on the HBM 540A/ALU Bandsaw, contact Behringer Saws, Inc., 721 Hemlock Road, Morgantown, PA 19543. Call toll-free at 888-234-7464 or visit Behringer's website at www.behringersaws.com

More from Machinery & Machining Tools