Bandsaw Blades are offered in many varieties.
Press Release Summary: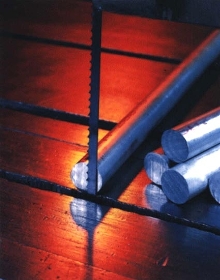 Bimetal and carbide blades include 3861 Sandflex(R) NF(TM) in 1/4 to 1 in. sizes, 3854 Sandflex(R) King Cobra(R) PHG(TM) in 2 and 2.5/8 in. widths, and 3851 Sandflex(R) Cobra PSG(TM) ground-tooth bimetal blades in 2 in. width and .050 in. thickness. Carbide blades include four versions of 3868 Fine Pitch Combo(R) blades with Triple Set(R) Xtra design with widths of 1 1/4, 1 1/2, and 2 in. and varying pitches. Also offered: Grit-Edged 3866 carbide blades.
---
Original Press Release:

Bahco Broadens Bandsaw Blade Lines At IMTS, Demonstrates Latest Sawing Productivity Software


Bahco North America, Inc. will introduce several additions to its highly productive carbide and bimetal bandsaw blade lines at the 2002 International Manufacturing Technology Show. The expanded range of products offers bandsaw users a single source for blades to cut all materials from hardened super alloys to abrasive composites. Visitors to Booth B-6861 will see ongoing demonstrations of selected Bahco Milford blades cutting a range of materials on an instrumented bandsawing machine. Comparative cutting forces will appear on a large-screen TV to show the effects of proper blade selection and machine settings on cutting efficiency.

Notebook computers around the booth will also enable visitors to try the latest release of Bahco's BandCalc, the bandsaw industry's most sophisticated calculator software. The Windows®-based program (patent pending) prompts users to enter material properties, workpiece dimensions, and machine characteristics to select the most productive Bahco Milford blade and cutting data. Booth visitors who enter their application data into BandCalc will receive printouts of optimum blade choices and sawing parameters.

New Blades

With new bimetal and carbide blades, Bahco Milford remains the one-stop-supplier for the range of industrial bandsaw blade users. Among the new products at IMTS, Bahco will spotlight the 3861 Sandflex® NF(TM) bimetal bandsaw blade. The affordable 3861 provides up to 10 times the life of ordinary milled carbon steel blades for just 40% higher cost. It upgrades carbon steel blade users to bimetal performance for greater bandsaw productivity and less downtime when sawing materials from wood to alloy steels. The 3861 blade is available in sizes from 1/4 to 1 in. and pitches from three to 24 teeth-per-inch.

Precision ground teeth with consistent height and set give Bahco Milford bimetal blades up to 70% greater life than milled blades. Range extensions to the Bahco Milford line of ground-tooth bimetal blades now provide even more productive cutting solutions for broader applications. Specially designed to cut difficult materials, the 3854 Sandflex® King Cobra® PHG(TM) is now available in 2" and 2.5/8". widths with the new 0.7/1 or 1/1.4 tooth pitch. The sharp combination tooth geometry provides smooth cuts and longer tool life cutting large and medium workpieces of Inconel, titanium, and hardened stainless steel.

The versatile 3851 Sandflex® Cobra PSG(TM) ground-tooth bimetal blade is now supplied in a 2" width, .050" thickness with 1.4/2 tooth pitch for specific machine types. Range extensions to this assortment also mean that for the 2.5/8" width blades, tooth pitches are available in 2/3, 3/4, or 4/6 to cut solid shapes, structural beams, and tubes. The heat resistant PSG blade is suitable for unalloyed carbon, stainless, tool, and ball bearing steels.

Carbide Blades

Expanding the current range of Bahco Milford carbide blades, the new 3868 Fine Pitch Combo® blade cuts thick-walled tubes and smaller workpieces down to 1 in. diameter. It is available in a 1.1/4 in. wide version with a 3/4 pitch, 1.1/2 in. wide versions with 2/3 and 3/4 pitches, and a 2 in. width with 2/3 pitch. All share the strong-set Triple Set® Xtra design for good kerf clearance and longer life in the most difficult materials. The 3868 family of carbide blades is designed for high-nickel alloys, abrasive tool steels, and other difficult materials.

Grit-Edged

The new 3866 carbide grit-edge blade broadens the line of Bahco blades to cut glass-reinforced composites and other abrasive materials. It is available in widths from 1/2 to 2 in.

Also on display at IMTS will be Bahco's line of ERGO ergonomically designed hand tools. ERGO wire clippers screwdrivers, wrenches, wire clippers, and other tools are the only ones documented to reduce the risk of repeat stress injuries by a formal 11-point development process.

For more information, contact Bahco North America, Inc., Box 2036, Scranton, PA 18501-2036, phone (800) 828-9893, fax (570) 341-9294, or http://Bahco.com/US.

Bahco North America, Inc. (Scranton, PA), is a wholly owned subsidiary of Snap-on, Incorporated. It is the new name for the former Sandvik Saws and Tools Company, which Snap-on, Incorporated acquired in 1999.

The Bahco Group is one of the world's largest manufacturers of saw blades, power tool accessories and hand tools.

For:

Bahco North America, Inc.

Scranton, PA

Contact:

Frank Colucci

Ardrey, Inc.

(732) 549-1300

fcolucci@ardreyinc.com

More from Packaging Products & Equipment