Bandpass Interference Filters suit life science instrumentation.
Press Release Summary: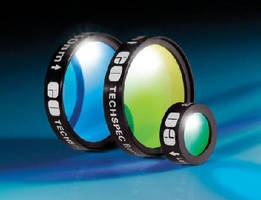 Available in 12.5, 25, or 50 mm diameters with center wavelengths from 400–950 nm, TECHSPEC® Hard Coated 25 nm Bandpass Interference Filters provide high transmission with deep blocking. Units eliminate unwanted background noise, while simultaneously optimizing SNR in imaging or machine vision applications. Suitable for single photon microscopy, filters prevent photobleaching in delicate live samples or fluorophores in broad range of life science applications.
---
Original Press Release:

TECHSPEC® Hard Coated 25 nm Bandpass Interference Filters Ideal for Life Science Instrumentation



Provide High Transmission with Deep Blocking



Barrington, N.J. - Edmund Optics® (EO), the premier provider of optical components, introduces new TECHSPEC® Hard Coated 25 nm Bandpass Interference Filters. Delivering high transmission with deep blocking, these precision filters are ideal for a wide variety of life science applications, as well as for use in machine vision applications.



Prevent photobleaching in live samples or fluorophores



Edmund Optics' TECHSPEC Hard Coated 25 nm Bandpass Interference Filters are designed to serve as an excellent midrange alternative to broadband or narrowband filters. Ideal for single photon microscopy, these filters prevent photobleaching in delicate live samples or fluorophores in a broad range of life science microscopy applications.



Eliminate unwanted background noise



EO's TECHSPEC Hard Coated 25 nm Bandpass Interference Filters are an outstanding choice when used to eliminate unwanted background noise, while simultaneously enhancing the signal-to-noise ratio in imaging or machine vision applications. Hard coated for durability, these filters meet Environmental Standard MIL-STD-810F and Durability Standard MIL-C-48497.



Filters with center wavelengths from 400-950 nm available



A variety of TECHSPEC Hard Coated 25 nm Bandpass Interference Filters are available, with center wavelengths (CWL) from 400 nm to 950 nm, with 12.5 mm, 25mm or 50 mm diameters available. Also, 10 nm and 50 nm Bandpass Interference Filters are available. TECHSPEC Hard Coated 25 nm Bandpass Interference Filters are in-stock and available for immediate delivery for fast turnaround and excellent value.



About EO:

Edmund Optics® (EO) is a leading producer of optics, imaging, and photonics technology for R&D, electronics, semiconductor, pharmaceutical, biomedical, and military markets around the globe. EO is the world's largest supplier of off-the-shelf optical components. Customers can purchase items by contacting EO at 1-800-363-1992, via the catalog, or via the website at www.edmundoptics.com



Company Contact:

Kirsten Bjork-Jones

Director Global Marketing Communications

Edmund Optics®, Inc.

101 East Gloucester Pike

Barrington, NJ 08007 U.S.A.

Phone: 1-800-363-1992

Fax: 1-856-573-6295

email: kbjork-jones@edmundoptics.com

More from Software